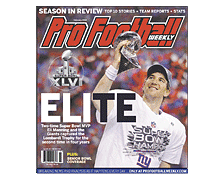 PFW Online: Vol. 26, Issue 28
Published: 2012-02-08
Cover Date: February 2012
This is the issue for the Super Bowl XLVI coverage and 2011 season in review.
SUPER BOWL XLVI
The NFL's title game came down to a few crucial plays that went the Giants' way, with another clutch performance from MVP Eli Manning a deciding factor. Plus, we recap the week's top stories from Indy.
TOP 10 STORIES
PFW looks back at the top 10 stories of the 2011 season, highlighted by the 10-year CBA agreement, the power of Tim Tebow and the magical run to a title by Eli Manning and the Giants.
SEASON IN REVIEW
We offer an in-depth review of the 2011 season for all 32 teams and select an MVP, biggest surprise and biggest disappointment for each. Plus, we look forward and give you each team's offseason outlook.
FUTURE STARS
Our coverage of the Senior Bowl lets you know how QB prospects Kirk Cousins and Russell Wilson and CB Janoris Jenkins fared, and we tell you who helped or hurt their draft stock during the week.
DEPARTMENTS
The Way We See It
2012 NFL draft order
The Way We Hear It
AFC statistical leaders
NFC statistical leaders
Final team statistics
Final team rankings
Opinion: Editorial, letters, Publisher's Pen
Columnists: Arthur Arkush, Barry Jackson, Dan Arkush's A-bombs
NFL transactions
Audibles
NFList: Ranking first-year-eligible Hall of Famers for 2013