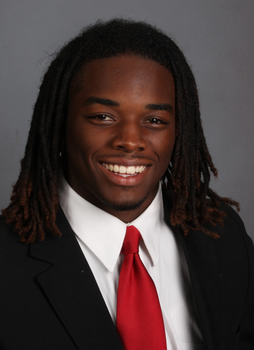 Trent Richardson - #3 - RB
| | |
| --- | --- |
| Height: | 5-9 1/4 |
| Weight: | 227 |
| Speed: | 4.49 |
| Arm: | 30 1/4 |
| Hand: | 9 1/2 |
| Wingspan: | 73 1/8 |
| Birthdate: | 07/10/1991 |
| Hometown: | Pensacola, FL |
| Grade: | 7.50 |
---
PROSPECT MEASURABLES
| Event | Ht | Wt | Hand | Arm | Wing | Wonderlic | 40 yard | BP | BJ | VJ | 20s | 60s | 3 Cn |
| --- | --- | --- | --- | --- | --- | --- | --- | --- | --- | --- | --- | --- | --- |
| 03/29/2012 Alabama Pro Day | 5-10 1/4 | 227 | 9 5/8 | 29 1/2 | 74 | | 4.49 | 25 | | | | | |
| 02/29/2012 Combine | 5-9 1/4 | 228 | 9 1/2 | 30 1/4 | 73 1/8 | | | | | | | | |
| 03/15/2011 Junior Pro Day | 5-11 | 225 | | | | | 4.50 | | | | | | |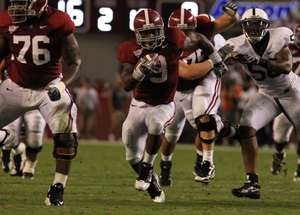 Notes:
Has two daughters. Nicknamed "The Beast." Highly recruited Parade and USA Today All-American out of Florida, where he was the 5A Player of the Year, broke some of Emmitt Smith's rushing records and won the state's weightlifting championship (219-pound class). Made his mark as a true freshman (playing in all 14 games) in 2009 when he carried 145 times for 751 yards (5.2-yard average) and eight touchdowns with 16 receptions for 126 yards (7.9) and zero touchdowns. Played 11 games in '10, starting the first two as an injury replacement for Saints '11 first-rounder Mark Ingram, and totaled 112-700-6 (6.2) with 23-266-4 (11.6) receiving. Added 24 kickoff returns for 634 yards (26.4), including a 91-yard score against Duke. Hurt his left knee against LSU and missed two games. Won the Doak Walker Award as the nation's top running back and was a finalist for the Heisman Trophy after his first season as a featured back, breaking the school records for rushing yards and touchdowns with 283-1,679-21 (5.9) in 13 starts. Also set the Alabama record with 2,083 all-purpose yards, including 29-338-3 (11.7) as a receiver and 3-66-0 (22.0) as a kickoff returner. Has seven career fumbles in 708 touches (lost one) and has a 5.9-yard rushing average. Team captain. Was medically excluded from the Combine with a left knee injury following surgery on Feb. 3 with renowned specialist James Andrews to have meniscus cartilage scoped. Is only 21 years old.
Positives:
Extremely physical, fearless and determined with a wicked stiff-arm. Can shuck defensive backs and keep his feet, regularly bouncing off tacklers. Rare balance and finishing strength — runs with a strong base and does not go down easy (seldom on initial contact). Has power in his body and knows how to use it. Is well-built to run between the tackles — runs square and churns through contact. Presses the line, can pick and slide and piles up yards after the catch. Extremely competitive. Has an angry-running style and seeks to punish defenders on contact. Can coil and deliver hits. Plants hard, runs downhill and is capable of taking the corner — has an urgent running style. Strong short-yardage runner — can barrel through the line and create his own hole. Rare weight-room strength and explosion — is rocked up with muscle, bench-presses more than twice his weight and can squat a small house. Plays big on big stages and keyed victories over Texas and LSU in national championship games. Good stamina and on-field playing temperament. Physically and mentally tough. Very aggressive blocker capable of decleating unsuspecting blitzers. Natural hands catcher. Consistently impactful.
Negatives:
Is bow-legged and tight-hipped and does not have elite feet in the hole. Is not an accomplished route runner. Long-term durability could be a concern given physical running style and history of knee injuries — might need to learn how to tame his aggression to preserve his body. Is a bit naïve and has been involved with some of the wrong people in the past.
Summary:
A powerful bellcow back with a unique combination of run strength, vision, balance and explosive tackle-breaking power. Regularly faced stacked boxes in the nation's most competitive conference and still entered the Alabama record books with jaw-dropping, reverse-field, highlight-reel runs that demonstrated the ability to run over or around tacklers. Played big on the biggest of stages, carried a national champion and has perennial Pro Bowl potential upon his arrival in the pros.
---
Trent Richardson's Draft Stock
| | |
| --- | --- |
| Grade | Round |
| 7.01-9.00 | Top 10 |
| 6.01-7.00 | 1 |
| 6.00 | 1-2 |
| 5.61-5.99 | 2 |
| 5.60 | 2-3 |
| 5.41-5.59 | 3 |
| 5.40 | 3-4 |
| 5.31-5.39 | 4 |
| 5.30 | 4-5 |
| 5.21-5.29 | 5 |
| 5.20 | 5-6 |
| 5.16-5.19 | 6 |
| 5.15 | 6-7 |
| 5.11-5.14 | 7 |
| 5.10 | 7-PFA |
| 4.75-5.09 | PFA |
| 4.00-4.74 | FA |
*PFW Grade indicates the value PFW assigned to prospects.
*Draft Projection indicates where players are more likely to be drafted and reflects the consensus opinion from the NFL scouting community.