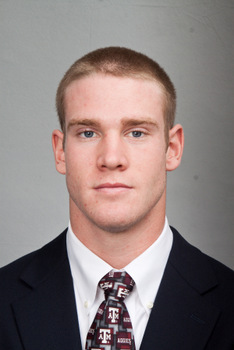 Ryan Tannehill - #17 - QB
| | |
| --- | --- |
| Height: | 6-4 |
| Weight: | 223 |
| Speed: | 4.59 |
| Arm: | 32 1/4 |
| Hand: | 9 |
| Wingspan: | 75 1/2 |
| Birthdate: | 07/27/1988 |
| Hometown: | Big Spring, TX |
| Grade: | 6.10 |
---
PROSPECT MEASURABLES
| Event | Ht | Wt | Hand | Arm | Wing | Wonderlic | 40 yard | BP | BJ | VJ | 20s | 60s | 3 Cn |
| --- | --- | --- | --- | --- | --- | --- | --- | --- | --- | --- | --- | --- | --- |
| 03/29/2012 Texas A&M Pro Day | 6-4 | 223 | 9 | 32 1/4 | 75 1/2 | | 4.59 | | | | | | |
| 02/29/2012 Combine | 6-3 7/8 | 221 | 9 | 32 5/8 | 76 1/4 | | | | | | | | |
| 03/15/2011 Junior Pro Day | 6-4 1/2 | 220 | | | | | 4.75 | | | | | | |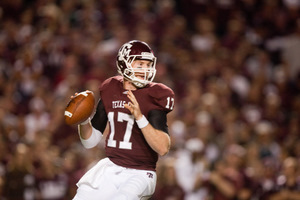 Notes:
Married after the season. Was a dual-threat quarterback as a Texas prep. Missed two games as a senior with a separated shoulder. Redshirted in 2007. Began the '08 season battling for the starting quarterback spot and ended up as the Aggies' leading receiver and offensive MVP after grabbing 55 passes for 844 yards (15.3-yard average) and five touchdowns in 11 games (six starts at wide receiver). Played receiver in all 13 games in '09 and led the team in catches with 46-609-4 (13.2). Saw action in three games at quarterback, completing 4-of-8 passes for 60 yards (50.0 percent) with no touchdowns or interceptions. Split the '10 season between wide receiver and quarterback, playing in all 13 games and catching 11-143-1 (13.0). Saw action as a QB in seven games, starting the final six games, and threw for 152-234-1,638-13-6 (65.0). Tallied a school-record 449 passing yards in his first career start against Texas Tech. The three-time first-team Academic All-Big 12 honoree graduated early and plans to eventually attend medical school to become an orthopedic surgeon. Set school records for yards, attempts and completions in his first full season as a starter in '11, throwing for 327-531-3,744-29-15 (61.6) and rushing for 58-306-4 (5.3) in 13 starts. Had a 12-7 record in 19 career starts as a quarterback. Broke the fifth metatarsal in his foot while training in January '12 at the IMG academy and missed the Senior Bowl after having surgery to insert a pin. Had a walking boot removed in mid-February but was not fully recovered in time for the Combine. Team captain.
Positives:
Very good size, arm strength and athletic ability to move around the pocket. Can thread the deep out and make stick throws when his feet are set. Can snap it quickly from a multitude of arm angles and hasten his delivery when needed. Can create some plays outside the pocket. Physically tough — can take a hit. Good caretaker — protects the ball and gets rid of it under duress (was sacked nine times as a senior). Intensely competitive. Well-spoken. Serious, business-like demeanor. Highly focused and determined.
Negatives:
Worked heavily out of the shotgun. A bit duck-footed — noticeable in his drops. Carries the ball low and tends to pat it — too much wasted motion in delivery. Release point often drops low, resulting in too many batted balls. Developing field vision and passing instincts. Can be rattled by the blitz — eyes drop to pressure. Seldom steps up in the pocket. Ball placement is inconsistent. Muddled decision-maker. Frequently bird-dogs his primary target, telegraphing passes and forcing the ball. Streaky performer — flustered by onset of adversity and too often did not come through in the clutch. Wound too tightly. Is coming off foot surgery, and durability needs to be examined.
Summary:
Having only converted from receiver midway through his junior season, Tannehill is far from a finished product and his mechanics still will require refinement. Clearly possesses NFL starting-caliber physical talent but will need a few years of seasoning before he's ready to handle live bullets. Struggled to find rhythm in a timing passing game and could be best suited for a vertical attack. Would be best entering a situation where he could be patiently groomed, yet based on the need for quarterbacks, is a strong candidate to be overdrafted and forced into action earlier than he should be.
---
Ryan Tannehill's Draft Stock
| | |
| --- | --- |
| Grade | Round |
| 7.01-9.00 | Top 10 |
| 6.01-7.00 | 1 |
| 6.00 | 1-2 |
| 5.61-5.99 | 2 |
| 5.60 | 2-3 |
| 5.41-5.59 | 3 |
| 5.40 | 3-4 |
| 5.31-5.39 | 4 |
| 5.30 | 4-5 |
| 5.21-5.29 | 5 |
| 5.20 | 5-6 |
| 5.16-5.19 | 6 |
| 5.15 | 6-7 |
| 5.11-5.14 | 7 |
| 5.10 | 7-PFA |
| 4.75-5.09 | PFA |
| 4.00-4.74 | FA |
*PFW Grade indicates the value PFW assigned to prospects.
*Draft Projection indicates where players are more likely to be drafted and reflects the consensus opinion from the NFL scouting community.