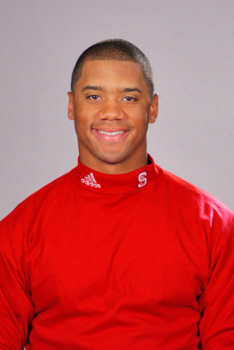 Russell Wilson - #16 - QB
| | |
| --- | --- |
| Height: | 5-10 5/8 |
| Weight: | 204 |
| Speed: | 4.54 |
| Arm: | 31 |
| Hand: | 10 1/4 |
| Wingspan: | 75 1/4 |
| Birthdate: | 11/29/1988 |
| Hometown: | Richmond, VA |
| Grade: | 5.29 |
---
PROSPECT MEASURABLES
| Event | Ht | Wt | Hand | Arm | Wing | Wonderlic | 40 yard | BP | BJ | VJ | 20s | 60s | 3 Cn |
| --- | --- | --- | --- | --- | --- | --- | --- | --- | --- | --- | --- | --- | --- |
| 03/07/2012 Wisconsin Pro Day | 5-11 | 206 | 10 | 31 | 75 1/2 | | | | | | | | |
| 02/29/2012 Combine | 5-10 5/8 | 204 | 10 1/4 | 31 | 75 1/4 | | 4.55 | | 9'10" | 34 | 4.10 | | 6.99 |
| 01/23/2012 Senior Bowl | 5-10 5/8 | 203 | 10 | 31 1/4 | 76 | | | | | | | | |
| 03/15/2011 Junior Pro Day | 5-11 1/2 | 205 | | | | | 4.60 | | | | | | |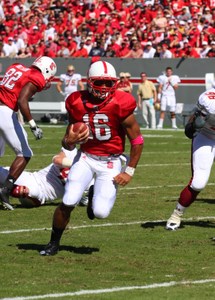 Notes:
Married. The Virginia prep threw for more than 3,000 yards and rushed for more than 1,100 as a senior, in addition to playing baseball. Began his collegiate career at North Carolina State where he redshirted in 2007 and earned Offensive Scout Team Player of the Year. Also played baseball for the Wolfpack. Became the first freshman to be named the first-team All-ACC quarterback in '08 after completing 150-of-275 pass attempts (54.5 percent) for 1,955 yards, 17 touchdowns and only one interception in 11 starts. Also rushed 116 times for 388 yards (3.3-yard average) and four touchdowns. Did not play against William & Mary (concussion), South Florida (undisclosed injury) and missed the second half of the Papajohns.com Bowl with a sprained knee. Started all 12 games in '09, throwing 224-378-3,027-31-11 (59.3) and rushing 103-260-4 (2.5). Attempted 379 passes between interceptions — the longest streak in NCAA history — over a two-year span of 13 games. Was selected by the Colorado Rockies in the fourth round of the MLB draft in June 2010 and played baseball during the summer. Returned to football in the fall and posted 308-527-3,563-28-14 (58.4) in the air and 143-435-9 (3.0) on the ground in 13 starts. Team captain. Was released from his scholarship at N.C. State, in part because of his desire to continue playing two sports. Transferred to Wisconsin for the '12 season, and was eligible to play immediately because he is working on a graduate degree. Was named the Big Ten Quarterback of the Year in '11 after leading the Badgers to the conference championship by tossing 225-309-3,175-33-4 (72.8) and rushing 79-338-6 (4.3) in 14 starts. Had a 30-20 record in 50 career starts. Captained both the Wolfpack and Badgers. Announced in January '12 that he would concentrate on football and not attend spring training with Rockies.
Positives:
Graceful athlete — looks athletic in everything he does on the field. Poised. Has a quick, high release and very good arm strength. Nice touch. Throws naturally on the move or off balance and can alter his arm slot. Breaks down defenses with his legs — evades pressure with ease and is creative when the pocket breaks. Productive, elusive scrambler. Excellent third-down efficiency. Outstanding intangibles — mature, grounded, motivated athlete with a professional makeup and work ethic. Quickly assimilated and earned the respect of his new teammates.
Negatives:
Is short and height limits his field vision at times. Limited drop-back production. Inconsistent ball placement. Will vacate the pocket prematurely. Locks on to receivers. Has made some questionable decisions late in games (see East Carolina and Virginia Tech 2010, Michigan State 2011). Is under contract with the Colorado Rockies, and his commitment to football needs to be evaluated.
Summary:
An instinctive, multisport athlete with a terrific work ethic and likable personality, Wilson has nearly everything you desire intangibly, including toughness, competitiveness and leadership. Never will be a prototypical dropback, pocket passer, as his height always will be a limiting factor, but he has the arm, legs and smarts to grow into an effective backup in a system where he can utilize play-action, rollouts, and improv skills to make plays. Versatile player who could even be sprinkled into the game plan on a weekly basis to take advantage of his dual-threat ability. Is the type of player you root for and want on your roster.
---
Russell Wilson's Draft Stock
| | |
| --- | --- |
| Grade | Round |
| 7.01-9.00 | Top 10 |
| 6.01-7.00 | 1 |
| 6.00 | 1-2 |
| 5.61-5.99 | 2 |
| 5.60 | 2-3 |
| 5.41-5.59 | 3 |
| 5.40 | 3-4 |
| 5.31-5.39 | 4 |
| 5.30 | 4-5 |
| 5.21-5.29 | 5 |
| 5.20 | 5-6 |
| 5.16-5.19 | 6 |
| 5.15 | 6-7 |
| 5.11-5.14 | 7 |
| 5.10 | 7-PFA |
| 4.75-5.09 | PFA |
| 4.00-4.74 | FA |
*PFW Grade indicates the value PFW assigned to prospects.
*Draft Projection indicates where players are more likely to be drafted and reflects the consensus opinion from the NFL scouting community.