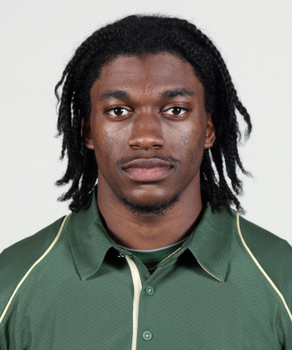 Robert Griffin III - #10 - QB
| | |
| --- | --- |
| Height: | 6-2 3/8 |
| Weight: | 223 |
| Speed: | 4.39 |
| Arm: | 32 1/4 |
| Hand: | 9 1/2 |
| Wingspan: | 77 3/4 |
| Birthdate: | 02/12/1990 |
| Hometown: | Copperas Cove, TX |
| Grade: | 6.70 |
---
PROSPECT MEASURABLES
| Event | Ht | Wt | Hand | Arm | Wing | Wonderlic | 40 yard | BP | BJ | VJ | 20s | 60s | 3 Cn |
| --- | --- | --- | --- | --- | --- | --- | --- | --- | --- | --- | --- | --- | --- |
| 02/29/2012 Combine | 6-2 3/8 | 223 | 9 1/2 | 32 1/4 | 77 3/4 | | 4.36 | | 10'0" | 39 | | | |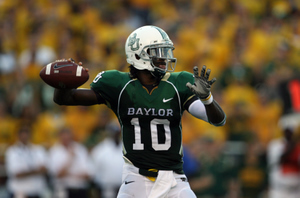 Notes:
Engaged. Born in Japan while his parents served in the U.S. Army. Won the Gatorade Texas Boys Track and Field Athlete of the Year Award after setting state records in the 110-meter hurdles (13.55 seconds) and 300 hurdles (35.33). Had a 25-4 record as a starting quarterback as a prep and was rated as the No. 3 dual-threat QB in the country. Originally committed to Houston and head coach Art Briles but changed his mind after Briles was hired at Baylor. Enrolled at Baylor in January 2008 and, in addition to football, was named a Track & Field All-American after placing third at the NCAA Outdoor Championships in the 400-meter hurdles (49.55). In the fall of '08, he was the nation's youngest starting quarterback as an 18-year-old and earned Freshman All-America and Big 12 Freshman of the Year honors. Completed 160-of-267 passes for 2,091 yards (59.9 percent) with 15 touchdowns and three interceptions and rushed 173 times for 843 yards (4.9-yard average) and 13 scores in 12 games (11 starts). In '09, he had his sophomore campaign cut short after three starts because of a torn ACL in his right knee after posting 45-69-481-4-0 (65.2) passing and 27-77-2 (2.9) rushing. Returned in the fall of '10 and garnered Big 12 Offensive Player of the Year and Comeback Player of the Year honors after passing 304-454-3,501-22-8 (67.0) and running 149-635-8 (4.3) in 13 starts. Earned his undergraduate degree in three years, will finish his master's degree in communications in the spring of '12 and eventually would like to attend law school. Won the Heisman Trophy and the Davey O'Brien Award, in addition to being named The Associated Press Player of the Year in '11 after setting the school record for passing yards and touchdowns with 291-406-4,293-37-6 (72.4) and rushing 179-699-10 (3.9) in 13 starts. Did not play in the second half against Texas Tech after suffering a concussion. Had a 22-18 career record in 40 starts.
Positives:
Outstanding deep-ball touch and accuracy; can drop it in a bucket and place it in tight spots. Highly competitive. Can adjust his throwing platform on the move, hasten his delivery and snap it from multiple arm angles. Can uncork it with ease. Quick to locate open receivers and will keep his eyes downfield in the face of duress. Competitive with the ball in his hands and picks up yardage in chunks. Has sprinter's straight-line speed and is effective scrambling outside the pocket. Comes from a military family that has instilled structure in his life. Extremely smart. Mentally tough — responds to a challenge. Came through in the clutch against Oklahoma and Washington and showed he can produce under the bright lights. Rare production. Gained a staggering 10.7 yards per attempt and proved capable of consistently flipping the field in a few plays.
Negatives:
Lacks ideal height. Ran a spread-option offense featuring many simple, one-look reads and lateral passes that inflated his statistics. Works exclusively out of the shotgun. Will use a side-arm and three-quarters delivery with a low release point that leads to batted balls. Makes his receivers adjust to the ball. Average anticipatory instincts and timing — is late to deliver the ball. Is not built to withstand a pounding and take punishment. Not an agile, make-you-miss runner — does not make full-speed cuts. Feels pocket ghosts and seeks to vacate prematurely — must continue refining pocket instincts. Too often late to see and feel pressure — takes unnecessary hits and durability could become an issue. Has 31 career fumbles and lost nearly half — can improve ball security on the move.
Summary:
A playmaking weapon capable of carving defenses with his live arm or legs, Griffin made a splash the minute he arrived on campus and emerged as a lethal big-play, vertical passer as a junior. Still must continue to hone his passing instincts from the pocket and prove he can stay healthy outside it. However, he proved he could catapult a doormat program to new heights, has the game-changing prowess to ignite an offense immediately and could add a flair to a downfield passing attack.
---
Robert Griffin III's Draft Stock
| | |
| --- | --- |
| Grade | Round |
| 7.01-9.00 | Top 10 |
| 6.01-7.00 | 1 |
| 6.00 | 1-2 |
| 5.61-5.99 | 2 |
| 5.60 | 2-3 |
| 5.41-5.59 | 3 |
| 5.40 | 3-4 |
| 5.31-5.39 | 4 |
| 5.30 | 4-5 |
| 5.21-5.29 | 5 |
| 5.20 | 5-6 |
| 5.16-5.19 | 6 |
| 5.15 | 6-7 |
| 5.11-5.14 | 7 |
| 5.10 | 7-PFA |
| 4.75-5.09 | PFA |
| 4.00-4.74 | FA |
*PFW Grade indicates the value PFW assigned to prospects.
*Draft Projection indicates where players are more likely to be drafted and reflects the consensus opinion from the NFL scouting community.