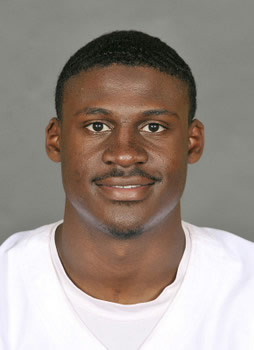 Morris Claiborne - #17 - CB-KR
| | |
| --- | --- |
| Height: | 5-11 1/4 |
| Weight: | 190 |
| Speed: | 4.44 |
| Arm: | 33 1/4 |
| Hand: | 8 1/2 |
| Wingspan: | 77 |
| Birthdate: | 02/07/1990 |
| Hometown: | Shreveport, LA |
| Grade: | 7.00 |
---
PROSPECT MEASURABLES
| Event | Ht | Wt | Hand | Arm | Wing | Wonderlic | 40 yard | BP | BJ | VJ | 20s | 60s | 3 Cn |
| --- | --- | --- | --- | --- | --- | --- | --- | --- | --- | --- | --- | --- | --- |
| 03/22/2012 LSU Pro Day | 5-11 1/4 | 190 | 8 3/8 | 32 5/8 | 77 | | 4.45 | | 9'9" | 35 | | | |
| 02/29/2012 Combine | 5-11 1/8 | 188 | 8 1/2 | 33 1/4 | 77 | | 4.54 | | 9'10" | 34 1/2 | 4.12 | 11.44 | 7.01 |
| 03/15/2011 Junior Pro Day | 6-0 | 185 | | | | | 4.40 | | | | | | |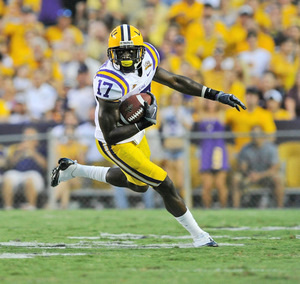 Notes:
Has a son. Nickname is "Mo." Played quarterback, defensive back and wide receiver as a Louisiana prep while also playing basketball and baseball and running track. Accounted for more than 2,000 all-purpose yards and 30 touchdowns as a senior quarterback and won the 4A state title in the 100-meter dash (10.76 seconds). Saw action in seven games at cornerback as a true freshman in 2009 after going to fall camp as a wide receiver, recording seven tackles, zero pass breakups and zero interceptions. Ended the season as the backup right cornerback behind Arizona Cardinals 2011 first-rounder Patrick Peterson. Moved to the left side and teamed with Peterson in '10, leading the team in interceptions after posting 37-6-5 with one tackle for loss in 12 starts. Missed the Louisiana-Monroe game because of a concussion. Won the Jim Thorpe Award as the nation's best defensive back in '11 — posted 51-6-6 (45-yard TD in SEC title game) with one tackle for loss in 14 starts (12 at RCB, the season opener at LCB and once as a nickel back). Also returned kickoffs 22-552-1 (25.1), including a 99-yard touchdown at West Virginia. Team captain. Was medically excluded from bench-pressing at the Combine with a left wrist injury.
Positives:
Rare arm length (tied for longest among cornerbacks at the Combine) to hem and control receivers at the line — strong in press coverage and uses levers to reroute receivers. Maintains great positioning and is seldom out of phase — works the trail position and will bait quarterbacks. Plays on balance, can read through his man to the quarterback and attacks the ball in the air like a receiver. Has very good hands, ball skills and interception production — exceptional catching radius to extend outside his frame and snatch the ball. Is so smooth and fluid he looks like he is gliding in coverage — very good competitive playing speed (faster than he timed). Is a solid, controlled tackler in space and will work off blocks to support — leverages the edges, takes good angles and shows a sense of urgency in the run game, even forklifting smaller ballcarriers into the ground. Terrific zone eyes and awareness — passes off receivers and quickly recognizes combo routes. Versatile — has played inside and outside. Feisty and does not back down from a challenge — carries a swagger. Confident, competitive and instinctive. Has kickoff-return skill — sees the field, anticipates angles, makes subtle cuts and can go the distance. Solid personal character and work habits.
Negatives:
Has small hands. Tends to rise in his pedal (very apparent in Combine drills). Did not perform like an elite athlete at the Combine (clocked multiple 4.56-second handheld 40-times and recorded only a 341⁄2-inch vertical jump). Lacks elite twitch out of his transition and could be stressed by quickness in the slot. Is not consistently physical in run support — seeks to shoestring-tackle some big backs.
Summary:
A well-built, rangy, long-limbed, confident press-man cover corner with the ball skills, instincts, toughness and swagger to lock down No. 1 receivers in the pros. Makes the game look easy and should factor readily.
---
Morris Claiborne's Draft Stock
| | |
| --- | --- |
| Grade | Round |
| 7.01-9.00 | Top 10 |
| 6.01-7.00 | 1 |
| 6.00 | 1-2 |
| 5.61-5.99 | 2 |
| 5.60 | 2-3 |
| 5.41-5.59 | 3 |
| 5.40 | 3-4 |
| 5.31-5.39 | 4 |
| 5.30 | 4-5 |
| 5.21-5.29 | 5 |
| 5.20 | 5-6 |
| 5.16-5.19 | 6 |
| 5.15 | 6-7 |
| 5.11-5.14 | 7 |
| 5.10 | 7-PFA |
| 4.75-5.09 | PFA |
| 4.00-4.74 | FA |
*PFW Grade indicates the value PFW assigned to prospects.
*Draft Projection indicates where players are more likely to be drafted and reflects the consensus opinion from the NFL scouting community.