Notre Dame - Fighting Irish
---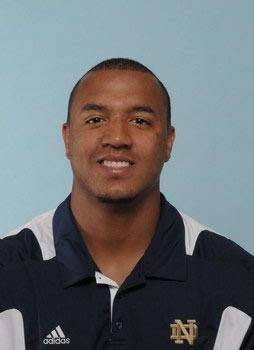 Michael Floyd - #3 - WR
| | |
| --- | --- |
| Height: | 6-2 5/8 |
| Weight: | 220 |
| Speed: | 4.44 |
| Arm: | 32 7/8 |
| Hand: | 9 3/8 |
| Wingspan: | 78 |
| Birthdate: | 11/27/1989 |
| Hometown: | Saint Paul, MN |
| Grade: | 6.18 |
---
PROSPECT MEASURABLES
| Event | Ht | Wt | Hand | Arm | Wing | Wonderlic | 40 yard | BP | BJ | VJ | 20s | 60s | 3 Cn |
| --- | --- | --- | --- | --- | --- | --- | --- | --- | --- | --- | --- | --- | --- |
| 04/03/2012 Notre Dame Pro Day | 6-3 1/8 | 220 | 9 3/8 | 32 1/4 | | | | | | | 4.37 | 11.66 | 7.11 |
| 02/29/2012 Combine | 6-2 5/8 | 220 | 9 3/8 | 32 7/8 | 78 | | 4.43 | 16 | 10'2" | 36 1/2 | | | |
| 03/15/2011 Junior Pro Day | 6-3 | 229 | 9 5/8 | 30 1/2 | 78 1/4 | | 4.55 | | | | | | |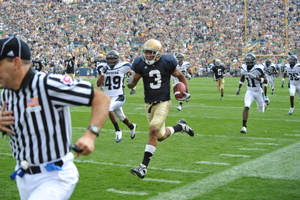 Notes:
As a prep at Minnesota's Cretin-Derham Hall, was named Parade and USA Today All-American, "Mr. Football" and Gatorade Player of the Year (twice). Also scored nearly 24 points per game on the hardwood. Committed to the Irish and then-head coach Charlie Weis in 2008. That fall, started 10-of-11 games in which he played (did not start season opener) at the "Z" receiver and produced 48 receptions for 719 yards (15-yard average) and seven touchdowns (all N.D. freshman records). Sprained his left knee against Navy and missed two games. Was cited for underage drinking in May '09 (pleaded guilty) in Minnesota. Managed 44-795-9 (18.1) in seven starts in the fall — required 15 stitches after gashing his right knee against Michigan, then broke his left collarbone against Michigan State (required surgery) and missed five contests. Was cited for underage drinking in January '10 in Minneapolis after allegedly leaving the scene of a fight that involved 6-10 people — Floyd (who had blood on his shirt and hands) was a passenger in a car that was pulled over. Started 12-of-13 games in '10, totaling 79-1,025-12 (13.0). Did not start against Navy (hamstring). Was arrested in March '11 for a DUI in South Bend, Ind., and pleaded guilty to misdemeanor drunken driving and was sentenced to a year of probation in June 2011. His one-year jail sentence was suspended as part of a plea agreement. Was not allowed to drive for 90 days and had an ignition device installed on his vehicle for six months that wouldn't allow it to start if his blood-alcohol level is too high. Also was fined $200 and ordered to attend a victim impact panel to hear from people whose family members were killed in drunken driving accidents. Lived in freshman dormitory as a senior as part of conditions to return to team. Led all Irish receivers and set his career highs in receptions and yards after hauling in 100-1,147-9 (11.5) in addition to one rushing touchdown in 13 games (12 starts) in '11. Has six career fumbles. Two-time team captain. Did not run shuttles at the Combine because of a right knee injury.
Positives:
Confident hands-catcher with good leaping ability and excellent body control to attack the ball in the air and take it away from defenders. Hands are both quick and strong. Tough, physical and will work the middle of the field and catch on contact. Makes subtle moves to set up runs, displays a strong stiff-arm and will plow through tacklers — strong runner after the catch and almost always falls forward. Tracks and adjusts to the ball very well downfield — runs to the ball like a center fielder and takes the ball away from defenders. Outstanding concentration in traffic. Good field awareness. Plays with urgency and carries a swagger. Excellent football-playing temperament — competitiveness clearly shows. Physical, sticky blocker — takes pride in craft and showed noticeable improvement. Good football intelligence. Outstanding career production. Plays through injuries. Showed genuine regret for past off-field transgressions during the interview process.
Negatives:
A bit high-cut and tightly wound and is not explosive off the line. Not overly sudden or elusive with the ball. Only bench-pressed 225 pounds 16 times at the Combine and is noticeably underdeveloped in the upper body. Has had knee, shoulder and hamstring injuries and a body that could be prone to direct contact and additional injury. Timed speed appears manufactured and does not always show down the field with many catches that are contested. Has three alcohol-related incidents that will require careful scrutiny.
Summary:
A big, tough, competitive "Z" receiver who stands out most for his physicality and urgent style of play, Floyd tested better at the Combine than he shows on tape and displayed the type of maturity during his final season in college and during the interview process to alleviate concerns about his history of alcohol-related incidents. Has the football smarts to step into a starting lineup immediately and quickly become a legitimate receiving force.
---
Michael Floyd's Draft Stock
| | |
| --- | --- |
| Grade | Round |
| 7.01-9.00 | Top 10 |
| 6.01-7.00 | 1 |
| 6.00 | 1-2 |
| 5.61-5.99 | 2 |
| 5.60 | 2-3 |
| 5.41-5.59 | 3 |
| 5.40 | 3-4 |
| 5.31-5.39 | 4 |
| 5.30 | 4-5 |
| 5.21-5.29 | 5 |
| 5.20 | 5-6 |
| 5.16-5.19 | 6 |
| 5.15 | 6-7 |
| 5.11-5.14 | 7 |
| 5.10 | 7-PFA |
| 4.75-5.09 | PFA |
| 4.00-4.74 | FA |
*PFW Grade indicates the value PFW assigned to prospects.
*Draft Projection indicates where players are more likely to be drafted and reflects the consensus opinion from the NFL scouting community.