Mark Barron - #4 - SS
| | |
| --- | --- |
| Height: | 6-1 1/8 |
| Weight: | 214 |
| Speed: | 4.56 |
| Arm: | 33 1/8 |
| Hand: | 9 5/8 |
| Wingspan: | 77 |
| Birthdate: | 10/27/1989 |
| Hometown: | Mobile, AL |
| Grade: | 6.27 |
---
PROSPECT MEASURABLES
| Event | Ht | Wt | Hand | Arm | Wing | Wonderlic | 40 yard | BP | BJ | VJ | 20s | 60s | 3 Cn |
| --- | --- | --- | --- | --- | --- | --- | --- | --- | --- | --- | --- | --- | --- |
| 03/29/2012 Alabama Pro Day | 6-1 1/8 | 214 | 9 5/8 | 33 1/8 | 77 | | 4.56 | | 10'2" | | | | |
| 02/29/2012 Combine | 6-1 | 213 | 9 1/2 | 33 5/8 | 79 5/8 | | | | | | | | |
| 03/15/2011 Junior Pro Day | 6-1 1/2 | 223 | 9 1/4 | 32 3/4 | 78 3/4 | | 4.50 | | | | | | |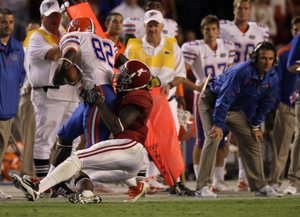 Notes:
Highly recruited Alabama athlete who played receiver, running back and linebacker on a state championship team. A special-teams player as a true freshman in 2008, recorded 18 tackles, zero pass breakups and zero interceptions with one sack in 14 games while learning multiple DB positions. Head coach Nick Saban later told the Mobile Press-Register, "In our efforts to get Mark Barron on the field, we put him in more situations than maybe he was ready to handle and that was my mistake, our mistake." Stepped into the lineup in '09, when he started all 14 games at strong safety for the national champs and responded by posting 76-11-7 with 3 1⁄2 tackles for loss and half a sack. Led the Southeastern Conference in interceptions and tied for the lead in passes defended (18). Started all 12 games in which he played at strong safety in '10, logging 75-6-3 with three tackles for loss, two sacks and a forced fumble. Missed the Tide's bowl game after surgery to repair a torn right pectoral muscle. Arrested in March 2011 in Mobile for second-degree hindering prosecution after police were called to the scene of a single-car accident at 5 a.m. and found an abandoned Chrysler 300 said to belong to Barron. Barron would not tell the officer how he arrived at the scene, but it was determined his cousin had driven the car and fled the scene. Won another national title in '11, logging 68-5-2 with five tackles for loss and one sack in 13 games (12 starts). Underwent double hernia surgery in February and did not participate at the Combine. Two-time team captain.
Positives:
Thickly built with excellent overall size and length — has small-linebacker size to match up well with tight ends. Tough, physical and aggressive in run support — impact striker. Plays downhill and runs the alley. Takes direct angles to the ball, gets good run fits and closes fast. Good athlete. Outstanding instincts vs. the run and pass — very good eyes and anticipation in zone coverage. Sound understanding of the game — played in an NFL-style defense, made the secondary calls and has very good football intelligence. Can make acrobatic interceptions. Highly competitive and has played through injuries. Outstanding football character — strong work habits and leadership traits.
Negatives:
Lacks elite foot speed and range to get over the top. Is long-limbed and can get hung up and stuck a bit in transition and will struggle matching up with dynamic slot receivers — bites on some double moves in coverage and can be baited. Is a bit high-cut and tight-hipped and will miss some tackles in space. Not an elite athlete nor does he have great leaping ability. Will fly downhill a bit recklessly and can be out of control and miss some big hits. Has battled through injuries the last two seasons and durability needs to be evaluated closely, as it could be a hindrance in the pros.
Summary:
Saban wisely protected him in coverage as a senior and allowed him to excel in the box, where he is most physical and consistently shows up in run support. However, he showed he possessed enough range off the hash as a junior and is capable of becoming an interchangeable back-half defender. Double hernia surgery might affect draft status, but not much given dearth of safety talent in the draft. Can walk into a starting lineup from Day One and become a leader in the secondary. A good functional football player who has drawn comparisons from scouts to Seattle Seahawks Pro Bowl safety Kam Chancellor.
---
Mark Barron's Draft Stock
| | |
| --- | --- |
| Grade | Round |
| 7.01-9.00 | Top 10 |
| 6.01-7.00 | 1 |
| 6.00 | 1-2 |
| 5.61-5.99 | 2 |
| 5.60 | 2-3 |
| 5.41-5.59 | 3 |
| 5.40 | 3-4 |
| 5.31-5.39 | 4 |
| 5.30 | 4-5 |
| 5.21-5.29 | 5 |
| 5.20 | 5-6 |
| 5.16-5.19 | 6 |
| 5.15 | 6-7 |
| 5.11-5.14 | 7 |
| 5.10 | 7-PFA |
| 4.75-5.09 | PFA |
| 4.00-4.74 | FA |
*PFW Grade indicates the value PFW assigned to prospects.
*Draft Projection indicates where players are more likely to be drafted and reflects the consensus opinion from the NFL scouting community.