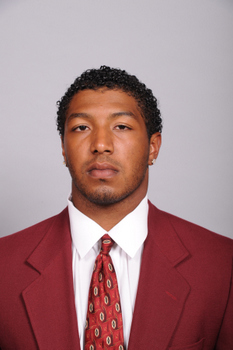 Marc Tyler - #26 - RB-FB
| | |
| --- | --- |
| Height: | 5-10 5/8 |
| Weight: | 219 |
| Speed: | 4.76 |
| Arm: | 32 |
| Hand: | 9 1/2 |
| Wingspan: | 74 3/4 |
| Birthdate: | 09/27/1988 |
| Hometown: | Yorba Linda, CA |
| Grade: | 5.07 |
---
PROSPECT MEASURABLES
| Event | Ht | Wt | Hand | Arm | Wing | Wonderlic | 40 yard | BP | BJ | VJ | 20s | 60s | 3 Cn |
| --- | --- | --- | --- | --- | --- | --- | --- | --- | --- | --- | --- | --- | --- |
| 03/07/2012 USC Pro Day | 5-10 1/8 | 218 | 9 1/2 | 31 1/2 | 74 | | 4.75 | | 9'7" | | 4.50 | 12.21 | 7.27 |
| 02/29/2012 Combine | 5-10 5/8 | 219 | 9 1/2 | 32 | 74 3/4 | | 4.72 | 19 | 9'2" | 30 1/2 | | | |
| 01/16/2012 East-West Shrine | 5-10 3/4 | 230 | 9 1/2 | 31 1/2 | 75 1/4 | | | | | | | | |
| 03/15/2011 Junior Pro Day | 5-10 3/8 | 233 | 9 1/2 | 31 3/4 | 75 1/2 | | 4.60 | | | | | | |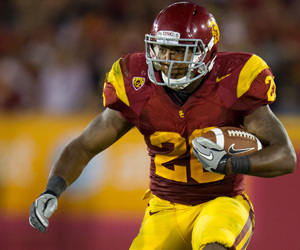 Notes:
Has a daughter. His father, Wendell Tyler, was a Pro Bowl running back with the Los Angeles Rams (1977-82) and the San Francisco 49ers (1983-86). Marc earned Parade All-America honors and was named the 2006 Gatorade Player of the Year after playing running back and linebacker at Oaks Christian High School in California. Redshirted in '07 while still recovering from a broken left leg suffered during his senior season. Appeared in eight games as a backup in '08, rushing 36 times for 198 yards (5.5-yard average) and one touchdown. Also had a 10-yard touchdown catch. Missed three games with a strained right hip/groin. Played in only one game in '09, posting 5-72-1 (14.4). Sprained his right big toe prior to Week Two and missed the rest of the season after undergoing surgery. Led the Trojans in rushing in '10 with 171-913-9 (5.3) and caught 17 passes for 127 yards (7.5-yard average) and one touchdown in 13 games (eight starts). Missed most of '11 spring practice with a strained hamstring. Was suspended for the season opener and underwent counseling because of his involvement in three alcohol-related incidents: allegedly spat on a female student while intoxicated in April; allegedly touched a female student inappropriately while intoxicated later that month; and made inappropriate comments to a TMZ television camera in July. On the season, started 6-of-10 games in which he played, rushing 122-568-4 (4.7) and catching 11-108-0 (9.8). Dislocated his left shoulder against California, aggravated the injury on his only carry against Stanford and sat out the Colorado contest. Has three career fumbles in 364 career touches, gaining 5.2 yards per carry. Did not run shuttles at the Combine because of a left quad strain.
Positives:
Excellent size — well-proportioned with bulk for the position. Good feet for a bigger back. Runs hard and can power through tackles when he runs behind his pads. Dependable receiver — makes himself available, has reliable hands and adjusts to throws. Effective running screens. Shows awareness and aggression as a blocker. Good football smarts. Has NFL pedigree.
Negatives:
Ordinary quickness to the hole. Average vision and instincts. Builds to below-average speed. Runs upright. Tight hips — not fluid in the open field. Gathers to cut and does not stop and start smoothly. Runs smaller than his size — not a great tackle breaker and goes down too easily for a 230-pounder. Inconsistent blocker. Leaves some yards on the field. Bench-pressed 225 pounds only 19 times at the Combine and has a 301⁄2-inch vertical jump. Has been dinged and durability could be an issue. Was never the featured back at USC. Is immature and character needs to be examined.
Summary:
Big back with good feet and enough veer to run between the tackles, though he never seemed to thrive or stay on track at USC because of competition, inconsistency, injuries and immaturity. Size and receiving ability will give him a chance to earn a job in the league, but he will have to prove he can stay healthy and check his sense of entitlement at the door.
---
Marc Tyler's Draft Stock
| | |
| --- | --- |
| Grade | Round |
| 7.01-9.00 | Top 10 |
| 6.01-7.00 | 1 |
| 6.00 | 1-2 |
| 5.61-5.99 | 2 |
| 5.60 | 2-3 |
| 5.41-5.59 | 3 |
| 5.40 | 3-4 |
| 5.31-5.39 | 4 |
| 5.30 | 4-5 |
| 5.21-5.29 | 5 |
| 5.20 | 5-6 |
| 5.16-5.19 | 6 |
| 5.15 | 6-7 |
| 5.11-5.14 | 7 |
| 5.10 | 7-PFA |
| 4.75-5.09 | PFA |
| 4.00-4.74 | FA |
*PFW Grade indicates the value PFW assigned to prospects.
*Draft Projection indicates where players are more likely to be drafted and reflects the consensus opinion from the NFL scouting community.