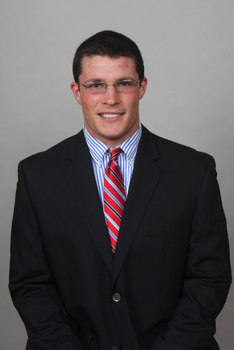 Luke Kuechly - #40 - ILB-OLB
| | |
| --- | --- |
| Height: | 6-3 1/4 |
| Weight: | 242 |
| Speed: | 4.61 |
| Arm: | 31 |
| Hand: | 9 3/4 |
| Wingspan: | 75 1/8 |
| Birthdate: | 04/20/1991 |
| Hometown: | Cincinnati, OH |
| Grade: | 6.30 |
---
PROSPECT MEASURABLES
| Event | Ht | Wt | Hand | Arm | Wing | Wonderlic | 40 yard | BP | BJ | VJ | 20s | 60s | 3 Cn |
| --- | --- | --- | --- | --- | --- | --- | --- | --- | --- | --- | --- | --- | --- |
| 03/21/2012 Boston College Pro Day | 6-3 1/2 | 243 | 9 3/4 | 30 1/2 | 75 1/2 | | | | | | | | |
| 02/29/2012 Combine | 6-3 1/4 | 242 | 9 3/4 | 31 | 75 1/8 | | 4.60 | 27 | 10'3" | 38 | 4.18 | 11.43 | 6.95 |
| 03/15/2011 Junior Pro Day | 6-3 | 235 | | | | | 4.75 | | | | | | |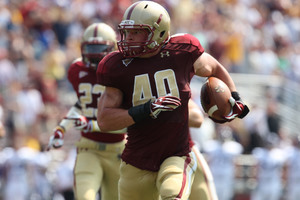 Notes:
Last name is pronounced "KEEK-lee." The Ohio prep led his team to a state championship as a junior. Also played lacrosse. Earned ACC Defensive Rookie of the Year honors as a true freshman in 2009 after recording 158 tackles, 13 tackles for loss and one sack with four pass breakups and a 28-yard interception return for a touchdown against Central Michigan. Saw action in all 13 games, making 12 starts — the first three games at middle linebacker and the final nine contests at weak-side linebacker. His tackles total was the second best mark in the country and the most for a B.C. defender since 1993. Led the nation in tackles in '10 after posting 183-10 1⁄2-1 1⁄2 with three pass breakups, three interceptions and a forced fumble in 13 starts at middle linebacker. Had a highly decorated junior season in '11, winning the Butkus Award, the Bronko Nagurski Award and the Lombardi Award. Broke his own school record for tackles and, again, led the nation in tackles after amassing 191-12-0 with three pass breakups and three interceptions in 12 starts. Had a streak of 33 straight games with 10 or more tackles broken in his final game against Miami, although he did record nine tackles and return an interception 45 yards for a score. Recorded 532 career tackles to sit atop the B.C. and ACC record books in only three seasons. Team captain.
Positives:
Rare three-year production. Exceptional football-playing instincts — moves before the snap, anticipates lanes and takes exceptional angles to the ball. Terrific situational awareness and football intelligence — knows his role and responsibility on every snap and is quick enough to compensate for others. Makes plays vs. the run and pass — beats blockers to the hole. Appeared very fluid, quick-footed and efficient in his movement during Combine drills (especially moving laterally). Recorded a 38-inch vertical jump and benchpressed 225 pounds 27 times at the Combine. Exceptional football character and makeup — smart, hardworking and has a passion for the game. Lives, breathes and sleeps football. Was described as the type of guy executives would want their daughter to marry during the interview process and as one of the best interviews in the past decade.
Negatives:
Has very short arms and is late to disengage when blockers get their hands on him. Average functional take-on strength. Does not attack downhill or show a lot of knockback body power — delivers few highlight-reel, slobber-knocking, head-buckling hits and falls into a lot of production 10 yards downfield. Can be beaten to the corner (see Virginia Tech) and timed speed appears manufactured (was asked to run three times at the Combine because of big splits — clocked a 4.77-second 40-yard time on second run more indicative of true play speed.) Limited upside — has a self-made, maxed-out frame, and what you see is what you get.
Summary:
One of the safest picks in this year's draft, the Butkus Award winner is capable of playing any LB position and will anchor a defense for the next 12 years and become a perennial Pro Bowl player. Compares very favorably to Vikings 2006 18th overall pick Chad Greenway, but lack of arm length should keep him inside in a finesse 40 front in the pros. A can't-miss selection who will challenge the NFL's all-time tackle records.
---
Luke Kuechly's Draft Stock
| | |
| --- | --- |
| Grade | Round |
| 7.01-9.00 | Top 10 |
| 6.01-7.00 | 1 |
| 6.00 | 1-2 |
| 5.61-5.99 | 2 |
| 5.60 | 2-3 |
| 5.41-5.59 | 3 |
| 5.40 | 3-4 |
| 5.31-5.39 | 4 |
| 5.30 | 4-5 |
| 5.21-5.29 | 5 |
| 5.20 | 5-6 |
| 5.16-5.19 | 6 |
| 5.15 | 6-7 |
| 5.11-5.14 | 7 |
| 5.10 | 7-PFA |
| 4.75-5.09 | PFA |
| 4.00-4.74 | FA |
*PFW Grade indicates the value PFW assigned to prospects.
*Draft Projection indicates where players are more likely to be drafted and reflects the consensus opinion from the NFL scouting community.