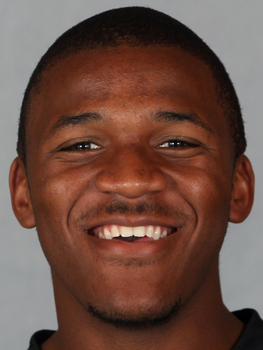 LaMichael James - #21 - RB
| | |
| --- | --- |
| Height: | 5-8 |
| Weight: | 194 |
| Speed: | 4.41 |
| Arm: | 30 1/4 |
| Hand: | 9 |
| Wingspan: | 71 1/4 |
| Birthdate: | 10/22/1989 |
| Hometown: | New Boston, TX |
| Grade: | 5.58 |
---
PROSPECT MEASURABLES
| Event | Ht | Wt | Hand | Arm | Wing | Wonderlic | 40 yard | BP | BJ | VJ | 20s | 60s | 3 Cn |
| --- | --- | --- | --- | --- | --- | --- | --- | --- | --- | --- | --- | --- | --- |
| 03/15/2012 Oregon Pro Day | 5-8 1/8 | 192 | 9 | 30 1/4 | 70 1/8 | | 4.42 | | | | | 11.30 | |
| 02/29/2012 Combine | 5-8 | 194 | 9 | 30 1/4 | 71 1/4 | | 4.40 | 15 | 10'3" | 35 | 4.14 | | 6.89 |
| 03/15/2011 Junior Pro Day | 5-8 1/2 | 190 | | | | | 4.50 | | | | | | |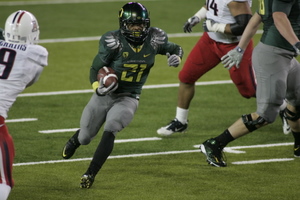 Notes:
His father was shot and killed before he was born and he was raised by his grandmother, who died while James was a junior in high school. Running back-safety who won Texas state championships in football and track (time of 10.51 seconds in the 100 meters). Was arrested and charged with disorderly conduct and third-degree battery in June 2008 after a fight with a rival high school. The charges were dropped in July '09. Redshirted in '08. Started 11-of-13 games in '09 and set the Pacific-10 Conference freshman rushing record by carrying 230 times for 1,546 yards (6.7-yard average) and 14 touchdowns with 17 receptions for 168 yards (9.9) and zero touchdowns. Added two kickoff returns for 43 yards (21.5). Is the first freshman in school history to earn the Ducks' Most Outstanding Player Award. A domestic incident with his then-girlfriend in February 2010 led to his being arrested and charged with five misdemeanors: one count strangulation, two counts fourth-degree assault and two charges of physical harassment. Ultimately pleaded guilty to one count of physical harassment and agreed to 10 days in jail and 24 months probation. Was suspended for the season opener. In the fall, won the Doak Walker Award and was a Heisman Trophy finalist after leading the nation in rushing and establishing a single-season school record for yards. Piled up 294-1,731-21 (5.9) on the ground with 17-208-3 (12.2) receiving in 12 starts. Also was a sprinter on the OU track team. Was the subject of two NCAA investigations — for his use of a Range Rover provided by Pernell Brown and as part of Oregon's use of a scouting service and Willie Lyles, who has ties to James. In '11, led the nation with 150.4 rushing yards per game and set the school record for rushing yards in a season after recording 247-1,805-18 (7.3) in 12 starts. Missed two games in the middle of the season with a dislocated right elbow. He leaves Oregon as the school's career record holder in many categories, including rushing yards (5,082), touchdowns (58) and points (348). Has recorded seven career 200-yard games and is the first player in conference history to have three consecutive seasons with 1,500 yards. Fumbled 12 times in 822 career touches with a 6.6-yard rushing average.
Positives:
Built low to the ground. Outstanding production. Field-fast, consistently rips off big runs and shows he can hit the home run. Natural running skills — exceptional vision and instincts to pick and slide. Feels the cutback. Excellent lateral agility (verified by 4.12-second short shuttle and 6.88-second 3-cone times) and has short-area burst to squirt through creases and dart upfield. Elusive and creative — can stop and start suddenly and string moves together. Very good balance and surprising run strength and body lean for his size. Keeps his legs churning and spins off contact.
Negatives:
Undersized with a brittle build — is not equipped to pound between the tackles and shoulder an NFL workhorse load. Short-strider with limited knee extension. Does not catch naturally and has questionable hands — lets throws into his pads and is more of a dump-off/screen option. Could stand to protect the ball better. Bench-pressed 225 pounds 15 times, lowest of any back at the Combine. Underpowered blocker — inconsistent willingness and technique. Benefited from playing in a prolific, revolutionary turbo offense and running behind wide splits against primarily sub-package defenses. Was not asked to grind out a lot of tough yards. Was contained by LSU and USC. Amassed more than 840 touches in three seasons and long-term durability is an issue given his small frame and injury history. Character needs to be investigated given his past arrest and involvement in multiple NCAA investigations.
Summary:
Small-framed, instinctive, slippery, highly productive change-of-pace back who runs decisively and has a knack for finding daylight. Grades out as a second-round talent on tape, but concerns over his timed speed, durability and character could push down his draft status and hinder his pro development.
---
LaMichael James's Draft Stock
| | |
| --- | --- |
| Grade | Round |
| 7.01-9.00 | Top 10 |
| 6.01-7.00 | 1 |
| 6.00 | 1-2 |
| 5.61-5.99 | 2 |
| 5.60 | 2-3 |
| 5.41-5.59 | 3 |
| 5.40 | 3-4 |
| 5.31-5.39 | 4 |
| 5.30 | 4-5 |
| 5.21-5.29 | 5 |
| 5.20 | 5-6 |
| 5.16-5.19 | 6 |
| 5.15 | 6-7 |
| 5.11-5.14 | 7 |
| 5.10 | 7-PFA |
| 4.75-5.09 | PFA |
| 4.00-4.74 | FA |
*PFW Grade indicates the value PFW assigned to prospects.
*Draft Projection indicates where players are more likely to be drafted and reflects the consensus opinion from the NFL scouting community.