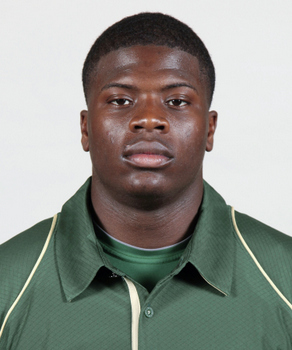 Kendall Wright - #1 - WR
| | |
| --- | --- |
| Height: | 5-10 1/4 |
| Weight: | 196 |
| Speed: | 4.54 |
| Arm: | 30 1/2 |
| Hand: | 8 5/8 |
| Wingspan: | 73 1/8 |
| Birthdate: | 11/12/1989 |
| Hometown: | Mount Pleasant, TX |
| Grade: | 5.90 |
---
PROSPECT MEASURABLES
| Event | Ht | Wt | Hand | Arm | Wing | Wonderlic | 40 yard | BP | BJ | VJ | 20s | 60s | 3 Cn |
| --- | --- | --- | --- | --- | --- | --- | --- | --- | --- | --- | --- | --- | --- |
| 03/21/2012 Baylor Pro Day | 5-10 1/4 | 197 | 8 3/8 | 30 3/8 | 73 1/8 | | 4.44 | 4 | | | | 11.50 | |
| 02/29/2012 Combine | 5-10 1/4 | 196 | 8 5/8 | 30 1/2 | 73 1/8 | | 4.56 | | 10'1" | 38 1/2 | 4.19 | | 6.94 |
| 03/15/2011 Junior Pro Day | 5-10 1/8 | 194 | 8 1/4 | 30 5/8 | 72 3/8 | | 4.40 | | | | | | |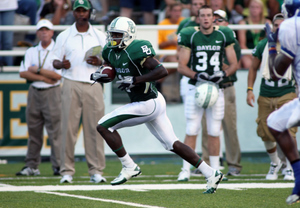 Notes:
All-state in football, basketball and track as a Texas prep, winning state titles in the long jump and triple jump. Set Baylor freshman records for receptions and receiving yards in 2008, when he started 11-of-12 games and recorded 50-649-5 (13-yard average). Also was a reserve on the basketball team. Started 11-of-12 games in '09, snagging 66-740-4 (11.2). Played all 13 games in '10, starting eight, and set a school record for single-season receptions with 78-952-7 (12.2). Added two punt returns for five yards (2.5). Had a record-setting season in '11, establishing school records for receptions, receiving yards and touchdowns after recording 108-1,663-14 (15.4) in 13 games (12 starts). Also saw limited duty returning punts 5-37-0 (7.4). Holds a share of 10 Baylor receiving records, including 4,004 career receiving yards — 1,300 more than any player in school history. Was the Bears' leading receiver four consecutive seasons from his inside receiver position. Has 75 career rushes for 425 yards (5.7) and six touchdowns. Also has completed 4-of-12 career pass attempts (33.3 percent) for 144 yards with two touchdowns and two interceptions. Has five career fumbles.
Positives:
Outstanding athletic ability. Fluid and field fast. Slithers off the line (dangerous if given free release). Quick-footed, agile and loose-hipped. Vertical threat. Sudden stop-and-go quickness and short-area burst. Makes difficult grabs and has a big catch radius for his size. Has a 381⁄2-inch vertical leap. Explosive, slippery and elusive after the catch — can turn a short throw into a long gain. Home-run hitter with dynamic playmaking ability. Not afraid to go over the middle — flashes toughness to catch on contact or take a hit and hold on. Highly confident and competitive and cares about the game. Versatile and football smart. Excellent production. Four-year starter.
Negatives:
Lacks ideal height and has short arms and small hands. Needs to improve functional strength to fend off the jam. Unrefined route runner — executed a limited route tree and will have to become more precise and disciplined (superior athletic ability masked lack of sophistication). Inconsistent ball reactions and is susceptible to concentration drops. Not a go-up-and-get-it guy (more effective running through catches). At times dances and tries to do too much with the ball in his hands. Very average blocker. Inflated production. Durability could be an issue. Has some prima donna traits, wears his feelings on his sleeve and sometimes lets emotion get the best of him.
Summary:
A small-framed, quick-twitch athlete, Wright teamed with Robert Griffin III to form one of the most lethal quarterback-receiver combinations in recent memory. Wright is not a finished product but is an electric playmaker whose explosiveness makes him a mismatch weapon at any receiver spot and enables him to stretch the field vertically and horizontally. Also has traits to excel in the return game. Produced an average Combine workout for evaluators who might put heavy stock into how he looks in shorts and a T-shirt but continually shows up in a big way on the field.
---
Kendall Wright's Draft Stock
| | |
| --- | --- |
| Grade | Round |
| 7.01-9.00 | Top 10 |
| 6.01-7.00 | 1 |
| 6.00 | 1-2 |
| 5.61-5.99 | 2 |
| 5.60 | 2-3 |
| 5.41-5.59 | 3 |
| 5.40 | 3-4 |
| 5.31-5.39 | 4 |
| 5.30 | 4-5 |
| 5.21-5.29 | 5 |
| 5.20 | 5-6 |
| 5.16-5.19 | 6 |
| 5.15 | 6-7 |
| 5.11-5.14 | 7 |
| 5.10 | 7-PFA |
| 4.75-5.09 | PFA |
| 4.00-4.74 | FA |
*PFW Grade indicates the value PFW assigned to prospects.
*Draft Projection indicates where players are more likely to be drafted and reflects the consensus opinion from the NFL scouting community.