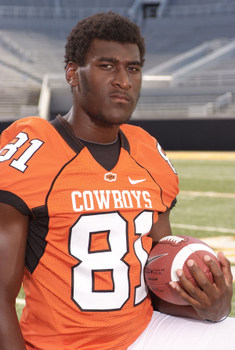 Justin Blackmon - #81 - WR
| | |
| --- | --- |
| Height: | 6-1 1/4 |
| Weight: | 215 |
| Speed: | 4.56 |
| Arm: | 32 1/2 |
| Hand: | 9 1/4 |
| Wingspan: | 78 1/2 |
| Birthdate: | 01/09/1990 |
| Hometown: | Oceanside, CA |
| Grade: | 6.60 |
---
PROSPECT MEASURABLES
| Event | Ht | Wt | Hand | Arm | Wing | Wonderlic | 40 yard | BP | BJ | VJ | 20s | 60s | 3 Cn |
| --- | --- | --- | --- | --- | --- | --- | --- | --- | --- | --- | --- | --- | --- |
| 03/09/2012 Oklahoma State Pro Day | 6-1 1/4 | 215 | 9 | 32 1/2 | 78 1/8 | | 4.48 | | 10'3" | 35 | 4.38 | 11.54 | 7.13 |
| 02/29/2012 Combine | 6-0 7/8 | 207 | 9 1/4 | 32 1/2 | 78 1/2 | | | 14 | | | | | |
| 03/15/2011 Junior Pro Day | 6-1 | 210 | | | | | 4.55 | | | | | | |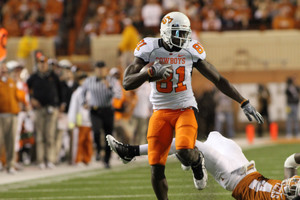 Notes:
Also played basketball as an Oklahoma prep. Redshirted in 2008. Played all 13 games in '09, starting four, and totaled 20 receptions for 260 yards (13-yard average) and two touchdowns. Sprained his left ankle against Kansas but did not miss action. Played in 12 games in '10, starting 10, and caught 111-1,782-20 (16.1). Added 4-77-1 (19.2) rushing. Was arrested in late October for DUI and was suspended against Kansas State. Had at least a 29-yard reception in every game and at least 105 receiving yards in every game with a touchdown catch in every game, as well. Also scored a touchdown on a punt return. Was the Biletnikoff Award winner, a unanimous first-team All-American and fifth in Heisman Trophy voting. Had another outstanding season in '11 becoming the only two-time winner of the Biletnikoff Award, given to the nation's top receiver. Broke his own school record for receptions after grabbing 121-1,522-18 (12.6) in 13 games (12 starts) and was named Big 12 Offensive Player of the Year. Sat out the second half of the Missouri game with a concussion. Set an NCAA record with 14 straight games (12 in '10 and two in '11) with at least 100 receiving yards. Was named MVP of the Fiesta Bowl after catching 8-163-3 despite playing through injury. Has four career fumbles, losing all three in '11. Did not run at the Combine because of a left hamstring injury.
Positives:
Plays big with a sense of urgency and will run out of the grasp of tacklers and outcompete defensive backs for the ball in the air. Exceptional hands-catcher — can pluck it. Runs hard with the ball in his hand and will deliver a quick stiff arm. Consistently moves the sticks on third downs and in critical situations despite facing extra attention. Sets up defensive backs, selling his routes hard and can separate with strength and savvy (nods, stems and double moves). Very good body control, concentration in traffic and downfield ball skills. Possesses instinctive receiving skills that cannot be taught. Can make very acrobatic, one-handed snags and excellent in-air adjustments to off-target throws — has a wide catching radius. Tracks the deep ball with ease and is very effective on fade routes. Works the middle and can play multiple positions. Intense game-day competitor. Aggressive blocker.
Negatives:
Lacks great size and is not physically intimidating. Average initial quickness off the line. Hip tightness is very apparent in movement. Top-end speed is average at best and will struggle to separate vertically against quick corners. Can be tracked from behind. Not an overly creative or elusive playmaker. Not powerful in the hips to explode through contact. Average leaping ability. Inconsistent effort as a blocker. Did not run a full route tree in a spread offense with a history of inflating the production of its receivers. Can be distracted by some of the trappings of the game and must prove committed in the weight room. Bench-pressed 225 pounds only 14 times at the Combine.
Summary:
Has drawn the most comparisons to Anquan Boldin from NFL evaluators given Blackmon's competitive playing temperament and lack of elite speed. But Blackmon is not as strong or physical and is more savvy playing the ball with a wider-catching radius. Can play inside or outside and bring a dependable, intense receiving presence to an offense but was not instantly impactful in college and might not possess the elite physical traits to scare defensive backs readily in the pros. A good, accomplished football player.
---
Justin Blackmon's Draft Stock
| | |
| --- | --- |
| Grade | Round |
| 7.01-9.00 | Top 10 |
| 6.01-7.00 | 1 |
| 6.00 | 1-2 |
| 5.61-5.99 | 2 |
| 5.60 | 2-3 |
| 5.41-5.59 | 3 |
| 5.40 | 3-4 |
| 5.31-5.39 | 4 |
| 5.30 | 4-5 |
| 5.21-5.29 | 5 |
| 5.20 | 5-6 |
| 5.16-5.19 | 6 |
| 5.15 | 6-7 |
| 5.11-5.14 | 7 |
| 5.10 | 7-PFA |
| 4.75-5.09 | PFA |
| 4.00-4.74 | FA |
*PFW Grade indicates the value PFW assigned to prospects.
*Draft Projection indicates where players are more likely to be drafted and reflects the consensus opinion from the NFL scouting community.