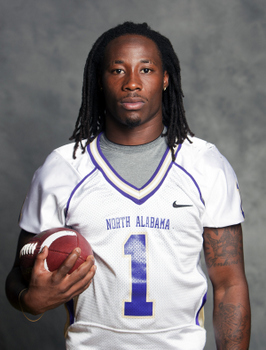 Janoris Jenkins - #1 - CB
| | |
| --- | --- |
| Height: | 5-10 |
| Weight: | 193 |
| Speed: | 4.47 |
| Arm: | 32 |
| Hand: | 8 1/4 |
| Wingspan: | 73 3/4 |
| Birthdate: | 10/29/1988 |
| Hometown: | , |
| Grade: | 5.80 |
---
PROSPECT MEASURABLES
| Event | Ht | Wt | Hand | Arm | Wing | Wonderlic | 40 yard | BP | BJ | VJ | 20s | 60s | 3 Cn |
| --- | --- | --- | --- | --- | --- | --- | --- | --- | --- | --- | --- | --- | --- |
| 02/29/2012 Combine | 5-10 | 193 | 8 1/4 | 32 | 73 3/4 | | 4.44 | | 10'1" | 33 1/2 | 4.14 | 11.23 | 6.96 |
| 01/23/2012 Senior Bowl | 5-9 3/4 | 191 | 8 1/4 | 30 3/8 | 74 1/4 | | | | | | | | |
| 03/15/2011 Junior Pro Day | 5-9 7/8 | 176 | 8 1/4 | 31 1/2 | 73 1/4 | | 4.45 | | | | | | |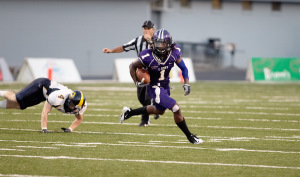 Notes:
First name is pronounced "ja-NORRIS." Has four children. Parade All-American at Pahokee (Fla.) High, where he won a pair of state titles as a cornerback-running back. As a true freshman in 2008 at the University of Florida (wore jersey No. 29), started 12-of-14 games (yielded a pair of September starts to Wondy Pierre-Louis) at the field corner and tallied 39 tackles, 11 pass breakups and three interceptions with one sack and a forced fumble. Had finger surgery in April '09 then was arrested in late May on misdemeanor charges of affray and resisting arrest without violence after he was involved in a fight and tasered. Was suspended for the season opener before starting all 13 games at the field corner spot opposite Cleveland Browns '10 first-rounder Joe Haden and logging 38-6-2 with three tackles for loss and a forced fumble. Started 11-of-12 games at left cornerback in '10, posting 44-8-3 with six tackles for loss and one sack. Saw action as a punt returner with 18 punts for 150 yards (8.3-yard average) and zero touchdowns. Missed the Outback Bowl after right shoulder surgery (torn labrum). Was arrested for marijuana possession in January '11 and again in April '11 and dismissed from the team. Transferred to Division II North Alabama. Recorded 53-4-2 with four tackles for loss and one blocked kick vs. Southern Arkansas in 12 starts. Was a standout returner with 18-390-3 (21.7) on punt returns (tied school record with three TDs) and 13-309-0 (23.8) as a kickoff returner. Also had a 49-yard fumble return for a touchdown against Abilene Christian. Was medically excluded from bench-pressing at the Combine (right shoulder) and did not perform any bench-press testing prior to the draft.
Positives:
Highly instinctive and alert in man or zone coverage. Versed in press and off coverage. Shoots his hands in press coverage and jars receivers at the line. Very good balance and body control. Explosive short-area quickness and burst to jump routes and make plays. Very good closing burst. Carries a swagger and plays with confidence — feisty in run support. Is an aggressive tackler and plays bigger than his size. Is quick-hipped and snaps through contact. Good hands and very good ball skills. Regularly handled elite SEC competition and showed he can dominate at a lower level. Has big-play return potential.
Negatives:
Has small hands. Lacks ideal height and bulk and has a history of injuries. Has multiple off-field arrests related to marijuana and must prove that he can stay focused, committed and out of trouble away from the field. Can be overaggressive jumping routes and get in trouble squatting (as he did at the Senior Bowl). Recorded only a 331⁄2-inch vertical jump at the Combine. Has some strength deficiencies. Has more red flags than May Day in Moscow and will require extra maintenance and need to be managed closely to avoid distractions that long have been a part of his life.
Summary:
Possesses a unique blend of instincts, ball skills, toughness and cover ability and is as proven against elite competition as any cornerback in this draft. However, a troubling history of issues could affect his draft status and present problems in the future if he does not enter an environment with a strong support structure and veteran locker room that can help keep him in line. Scouts have compared him to Philadelphia Eagles CB Asante Samuel, and he can factor immediately in the slot and become an elite, gnat-like, blanket cover man on the outside if managed properly. A high-risk, high-reward pick.
---
Janoris Jenkins's Draft Stock
| | |
| --- | --- |
| Grade | Round |
| 7.01-9.00 | Top 10 |
| 6.01-7.00 | 1 |
| 6.00 | 1-2 |
| 5.61-5.99 | 2 |
| 5.60 | 2-3 |
| 5.41-5.59 | 3 |
| 5.40 | 3-4 |
| 5.31-5.39 | 4 |
| 5.30 | 4-5 |
| 5.21-5.29 | 5 |
| 5.20 | 5-6 |
| 5.16-5.19 | 6 |
| 5.15 | 6-7 |
| 5.11-5.14 | 7 |
| 5.10 | 7-PFA |
| 4.75-5.09 | PFA |
| 4.00-4.74 | FA |
*PFW Grade indicates the value PFW assigned to prospects.
*Draft Projection indicates where players are more likely to be drafted and reflects the consensus opinion from the NFL scouting community.