Michigan State - Spartans
---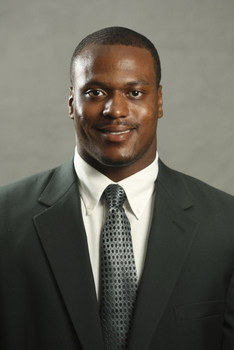 Edwin Baker - #4 - RB
| | |
| --- | --- |
| Height: | 5-8 |
| Weight: | 204 |
| Speed: | 4.49 |
| Arm: | 29 5/8 |
| Hand: | 8 1/8 |
| Wingspan: | 70 7/8 |
| Birthdate: | 06/01/1991 |
| Hometown: | , |
| Grade: | 5.33 |
---
PROSPECT MEASURABLES
| Event | Ht | Wt | Hand | Arm | Wing | Wonderlic | 40 yard | BP | BJ | VJ | 20s | 60s | 3 Cn |
| --- | --- | --- | --- | --- | --- | --- | --- | --- | --- | --- | --- | --- | --- |
| 03/14/2012 Michigan State Pro Day | 5-8 | 202 | 8 1/8 | 29 3/8 | 69 3/4 | | 4.45 | | 9'11" | | | 11.45 | 7.25 |
| 02/29/2012 Combine | 5-8 | 204 | 8 1/8 | 29 5/8 | 70 7/8 | | 4.47 | 20 | 9'3" | 35 | 4.34 | | 7.28 |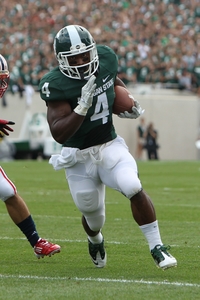 Notes:
Nicknamed "Rock" from the time he fell off a porch, hit his head and popped back up. The Michigan prep was one of the best running backs in the country as a senior despite missing four games and the U.S. Army All-American Bowl with a hyperextended knee. Made eight appearances, making a start against Western Michigan, as a true freshman in 2009, carrying the ball 85 times for 427 yards (5.0-yard average) and one touchdown. Also grabbed seven passes for 43 yards (6.1-yard average) and zero TDs in addition to two kickoff returns for 38 yards (19.0-yard average). Played in the season opener then sat out the next five games as a potential redshirt candidate before participating in the last seven contests. Was the Spartans' leading rusher and compiled the fourth-best mark in the Big Ten in '10 after recording 207-1,201-13 (5.8) in 13 games (12 starts). His only non-start was the Iowa game when the team started with a four-WR set. Contributed 3-22-0 (7.3) as a receiver. In '11, he split carries with Le'Veon Bell and finished with 170-665-5 (3.9) while catching 5-60-1 (12.0) in 14 games (started eight of the first nine games). Fumbled nine times in 477 touches and has a 5.0-yard career rushing average.
Positives:
Works hard in the weight room and it shows — has a chiseled physique. Has a 600-pound squat and can bench-press nearly twice his weight. Runs behind his pads with a low center of gravity. Good balance and vision (reads blocks). Churns his legs, barrels through contact and steps out of ankle tackles. Has quick feet and shows one-cut ability to stick his foot in the dirt and accelerate upfield. Willingly faces up in pass protection. Tough and durable. Confident, mature and intense. Has considerable tread remaining on the tires.
Negatives:
Lacks ideal height. Shows some tightness in his hips and produced marginal shuttle times at the Combine. Average elusiveness and leg extension (lacks extra gear to pull away from the pack). Takes time to get rolling (confirmed by paltry 1.64-second 10-yard time at the Combine). Minimal receiving production (was barely used in this area). Carries the ball loosely and ball security has been an issue. Slid to No. 2 on the depth chart as a junior.
Summary:
Compactly built with an NFL body, Baker is a strong, competitive, tough back with broad appeal given his scheme versatility and pro makeup. Took a back seat to Le'Veon Bell as a junior, but his running skills play well in man- or zone-blocking schemes and he is capable of sharing the load in tandem or shouldering 20-plus carries if need be. Has been described as a poor man's Ray Rice by NFL evaluators.
---
Edwin Baker's Draft Stock
| | |
| --- | --- |
| Grade | Round |
| 7.01-9.00 | Top 10 |
| 6.01-7.00 | 1 |
| 6.00 | 1-2 |
| 5.61-5.99 | 2 |
| 5.60 | 2-3 |
| 5.41-5.59 | 3 |
| 5.40 | 3-4 |
| 5.31-5.39 | 4 |
| 5.30 | 4-5 |
| 5.21-5.29 | 5 |
| 5.20 | 5-6 |
| 5.16-5.19 | 6 |
| 5.15 | 6-7 |
| 5.11-5.14 | 7 |
| 5.10 | 7-PFA |
| 4.75-5.09 | PFA |
| 4.00-4.74 | FA |
*PFW Grade indicates the value PFW assigned to prospects.
*Draft Projection indicates where players are more likely to be drafted and reflects the consensus opinion from the NFL scouting community.