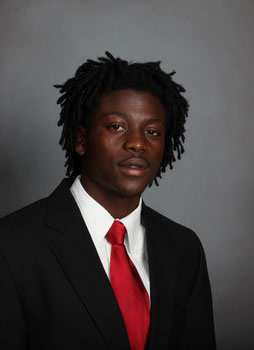 Dre Kirkpatrick - #21 - CB
| | |
| --- | --- |
| Height: | 6-1 5/8 |
| Weight: | 186 |
| Speed: | 4.49 |
| Arm: | 30 5/8 |
| Hand: | 9 1/2 |
| Wingspan: | 75 |
| Birthdate: | 10/26/1989 |
| Hometown: | Gadsden, AL |
| Grade: | 5.97 |
---
PROSPECT MEASURABLES
| Event | Ht | Wt | Hand | Arm | Wing | Wonderlic | 40 yard | BP | BJ | VJ | 20s | 60s | 3 Cn |
| --- | --- | --- | --- | --- | --- | --- | --- | --- | --- | --- | --- | --- | --- |
| 03/29/2012 Alabama Pro Day | 6-1 3/4 | 187 | 9 3/4 | 30 | 74 3/8 | | | | | | | 11.72 | 7.20 |
| 03/07/2012 Alabama Pro Day | 6-1 3/4 | 194 | 9 3/4 | 30 | 74 3/8 | | | | | | | | |
| 02/29/2012 Combine | 6-1 5/8 | 186 | 9 1/2 | 30 5/8 | 75 | | 4.52 | | 10'0" | 35 | | | |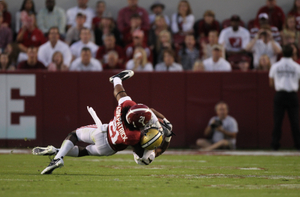 Notes:
Nicknamed "Swagga" for the attitude and confidence he displayed in his days as a youth on the baseball fields. The Alabama prep earned Parade and USA Today All-America honors before playing in 12 games as a true freshman for Alabama in 2009. Saw action on special teams and as a reserve defensive back, recording eight tackles, zero pass breakups and zero interceptions. Moved into the starting lineup in '10 and posted 53-7-3 with four tackles for loss and one forced fumble in 13 games with 12 starts at left cornerback (all but Mississippi State). Registered 30-9-0 with four tackles for loss and two forced fumbles in 13 starts in '11. Left the game in the third quarter against Arkansas with a shoulder injury. Wore a big right elbow brace against Florida. Suffered a concussion defending a fourth-quarter punt against LSU on Nov. 6. Returned a blocked field goal 55 yards for a touchdown against Georgia Southern. Was arrested Jan. 17, 2012 in Florida on marijuana charges, but they were dropped on Feb. 6. Did not lift at the Combine because of a right shoulder injury and sat out shuttles after straining his right hamstring in drills.
Positives:
Exceptional body length to match up against size. Good short-area quickness and burst, confirmed by very good 10-yard splits (1.56 seconds) at the Combine. Good balance and coordination. Sticky cover skills — reads the hips of receivers and can mirror and trail. Good eyes and zone instincts — quick to sort combo routes, diagnose and jump what he sees. Fills fast in run support and hits with some pop — seeks blow-up shots and will lay the lumber (on unsuspecting receivers). Aggressive playing the ball in the air. Plays with confidence. Excels as a jammer on special teams. Proven vs. top competition.
Negatives:
Has short arms and is extremely lean. Modest overall career production. Lacks elite speed to carry receivers vertically. Freelances too much and lacks discipline. Can do a better job coming to balance in space — overruns the ball and arrives out of control. Average recovery burst. Gave up two TDs against Arkansas. Has only three career interceptions. Not dependable. Has identity and entitlement issues. Can be lured by the trappings of the game and easily distracted. Will need to be managed closely. Has been injury-prone and body is not built to withstand contact — long-term durability could be an issue. Average Combine workout and interviews.
Summary:
Long-limbed, cocky, aggressive, sticky corner best suited to man short areas in zone coverage. However, his body is not built to handle the physicality of his game and a lack of dependability could limit his ceiling to a difficult-to-manage No. 2. Has some bust potential and will require a demanding positional coach to reach his potential. Dependability issues could drive down draft value.
---
Dre Kirkpatrick's Draft Stock
| | |
| --- | --- |
| Grade | Round |
| 7.01-9.00 | Top 10 |
| 6.01-7.00 | 1 |
| 6.00 | 1-2 |
| 5.61-5.99 | 2 |
| 5.60 | 2-3 |
| 5.41-5.59 | 3 |
| 5.40 | 3-4 |
| 5.31-5.39 | 4 |
| 5.30 | 4-5 |
| 5.21-5.29 | 5 |
| 5.20 | 5-6 |
| 5.16-5.19 | 6 |
| 5.15 | 6-7 |
| 5.11-5.14 | 7 |
| 5.10 | 7-PFA |
| 4.75-5.09 | PFA |
| 4.00-4.74 | FA |
*PFW Grade indicates the value PFW assigned to prospects.
*Draft Projection indicates where players are more likely to be drafted and reflects the consensus opinion from the NFL scouting community.