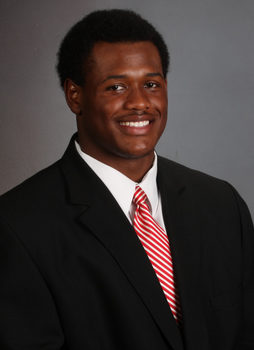 Dont'a Hightower - #30 - ILB
| | |
| --- | --- |
| Height: | 6-2 1/4 |
| Weight: | 265 |
| Speed: | 4.64 |
| Arm: | 32 5/8 |
| Hand: | 9 3/4 |
| Wingspan: | 78 1/2 |
| Birthdate: | 03/12/1990 |
| Hometown: | Lewisburg, TN |
| Grade: | 6.23 |
---
PROSPECT MEASURABLES
| Event | Ht | Wt | Hand | Arm | Wing | Wonderlic | 40 yard | BP | BJ | VJ | 20s | 60s | 3 Cn |
| --- | --- | --- | --- | --- | --- | --- | --- | --- | --- | --- | --- | --- | --- |
| 03/07/2012 Alabama Pro Day | 6-2 1/8 | 265 | 9 5/8 | 31 1/2 | 76 7/8 | | | | 9'9" | 33 | 4.64 | 12.22 | 7.55 |
| 02/29/2012 Combine | 6-2 1/4 | 265 | 9 3/4 | 32 5/8 | 78 1/2 | | 4.65 | | | 32 | | | |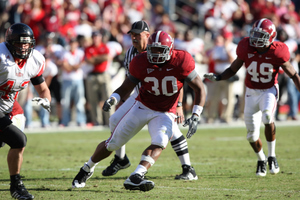 Notes:
Given name is Qualin. Goes by "Don-tay." The Tennessee prep was the state's 3A Mr. Football after recording 168 tackles on defense and scoring 19 touchdowns on offense. Was one of two true freshman starters for the Tide in 2008, playing in all 14 contests with 12 starts at the "Will" spot with his only non-starts occuring when team opened in a nickel package. Recorded 64 tackles, 2 1⁄2 tackles for loss and zero sacks with one forced fumble. In '09, he started the first four games at "Will" linebacker before suffering a torn ACL in his left knee against Arkansas and taking a medical redshirt. Also saw time at the "Jack" position in passing situations and posted 16-4-1 with one pass breakup for the season. Returned to the starting lineup in '10 and produced 69-3 1⁄2-0 with three pass breakups while starting all 13 games — started the first four games at the "Mike" linebacker before switching back to his original "Will" LB position. In '11, he had minor surgery to repair a fracture in his left hand on Aug. 11 but returned to practice the next day. Was the leader of Alabama's No. 1 defense in '11 after registering career highs with 85-11-4 and three pass breakups, one interception, one forced fumble and one blocked kick in 13 games at the "Mike" LB spot. The two-time team captain received his bachelor's degree in December 2011.
Positives:
Powerfully built with exceptional size, body thickness and take-on strength for the inside. Plays big. Can dominate fullbacks at the point of attack — explosive on contact. Extremely stout base. Plays square to the line and stones iso-lead blockers in the hole (see LSU). Can stack, shed and swallow ballcarriers. Physical tackler with knockback power in his body. Reroutes and can control tight ends at the line of scrimmage. Athletic mover for his size. Versatile — has played multiple positions and has the football smarts to line up the defense and handle any LB position (knows everyone's assignments). Highly instinctive. Has lined up with his hand in the dirt and can set the edge and swat blockers out of the way. Highly respected, defensive signalcaller. Solid character. Works hard, is committed to the game and is well-versed in an NFL-style defense.
Negatives:
Does not always sell out around piles and appears to be protecting himself too much — leaves some production on the field. Can improve his hand use disengaging. Limited range and production in coverage — can be outflanked by speed backs. Has some heaviness in his movement — weight has pushed 270 pounds and might require monitoring. Lacks elite speed and short-area burst to bend the edge. Can expand his pass-rush arsenal. Can do a better job coming to balance and wrapping in space. Average book smarts. Durability requires evaluation.
Summary:
A big-bodied, physical run stuffer with deceptive movement skill and edge-setting strength to play outside, Hightower took time to recover from the ACL injury he suffered two years ago and has shown a tendency to play too cautiously since returning to the field. Is regarded as a two-down 3-4 "Mike" linebacker by some NFL teams but might fit best outside in an odd front given his physicality to control the line of scrimmage and stack the corner. His ability to kick outside on third downs enhances his value. Is scheme-diverse and versatile and has Pro Bowl potential when healthy. Could be most attractive to a big, physical, imposing front used by a team like the Jets, Packers, 49ers or Texans.
---
Dont'a Hightower's Draft Stock
| | |
| --- | --- |
| Grade | Round |
| 7.01-9.00 | Top 10 |
| 6.01-7.00 | 1 |
| 6.00 | 1-2 |
| 5.61-5.99 | 2 |
| 5.60 | 2-3 |
| 5.41-5.59 | 3 |
| 5.40 | 3-4 |
| 5.31-5.39 | 4 |
| 5.30 | 4-5 |
| 5.21-5.29 | 5 |
| 5.20 | 5-6 |
| 5.16-5.19 | 6 |
| 5.15 | 6-7 |
| 5.11-5.14 | 7 |
| 5.10 | 7-PFA |
| 4.75-5.09 | PFA |
| 4.00-4.74 | FA |
*PFW Grade indicates the value PFW assigned to prospects.
*Draft Projection indicates where players are more likely to be drafted and reflects the consensus opinion from the NFL scouting community.