Penn State - Nittany Lions
---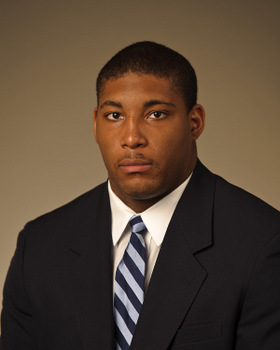 Devon Still - #71 - DT
| | |
| --- | --- |
| Height: | 6-4 7/8 |
| Weight: | 303 |
| Speed: | 5.04 |
| Arm: | 33 1/4 |
| Hand: | 10 |
| Wingspan: | 80 1/4 |
| Birthdate: | 07/11/1989 |
| Hometown: | Camden, NJ |
| Grade: | 5.65 |
---
PROSPECT MEASURABLES
| Event | Ht | Wt | Hand | Arm | Wing | Wonderlic | 40 yard | BP | BJ | VJ | 20s | 60s | 3 Cn |
| --- | --- | --- | --- | --- | --- | --- | --- | --- | --- | --- | --- | --- | --- |
| 03/14/2012 Penn State Pro Day | 6-5 1/8 | 300 | 10 1/8 | 32 3/8 | 80 1/8 | | 4.99 | | | | 4.65 | | 7.70 |
| 02/29/2012 Combine | 6-4 7/8 | 303 | 10 | 33 1/4 | 80 1/4 | | 5.06 | 26 | | 29 1/2 | | | |
| 03/15/2011 Junior Pro Day | 6-5 1/4 | 307 | | | | | 5.10 | | | | | | |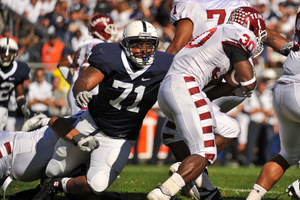 Notes:
Has a daughter. Has two cousins with noteworthy NFL careers — Art Still was a four-time Pro Bowl defensive end for the Kansas City Chiefs and Buffalo Bills (1978-89) and Levon Kirkland was an All-Pro linebacker who played for the Pittsburgh Steelers, Seattle Seahawks and Philadelphia Eagles (1992-2002). Devon also competed in basketball and track and field as a Delaware prep. Redshirted in '07 after tearing his right ACL during fall camp. Broke his left ankle during '08 season and saw very limited action in three games (season opener and final two contests). Played all 13 games in '09 (started the Capital One Bowl against LSU), notching 19-5 1⁄2-2 with two passes batted down. Started 12-of-13 games in '10 and registered 39-10-4 with one batted pass. Did not start against Indiana as punishment for showing up late to a team breakfast. Named the Big Ten Defensive Player of the Year in '11 after totaling 55-17-4 1⁄2 with one pass batted down and one forced fumble in 13 starts at DRT spot. Played with the flu against Ohio State and was kept off the stat sheet. Team captain.
Positives:
Excellent body length and frame with broad shoulders and good overall thickness. Flashes quickness off the ball — times the snap, throws his hips in the hole and is effective slanting, stunting and shooting gaps. Will knife into the backfield when unencumbered and can be disruptive making plays behind the line of scrimmage. Has long clubs and knows how to use them to slap and swim past blockers. Rose to the occasion against Alabama and Nebraska and had a knack for making plays when they were needed. Has NFL pedigree.
Negatives:
Tends to rise out of his stance, negating his leverage and allowing him to be knocked off the ball and sealed. Can be handled by the double-team and controlled (even rag-dolled) vs. powerful blockers. Can benefit from learning more counter moves. Inconsistent effort — gets stalled and hung up on the line and can be late to locate the ball. Average lateral agility and playing range. Spends more time on the ground than he should and was pancaked in all four viewings from 2010-11. Must do a better job protecting his legs and playing to his size. Has underachiever traits. Not a consistent finisher or an imposing nail-eater. Was slowed by injuries early in career and wore down late in the season as a senior. Much of his production came against inferior competition.
Summary:
Matured as a senior following the birth of his daughter and made his final season his best. Has received some first-round grades as an end from teams employing 3-4 fronts. However, he lacks ideal functional base anchor strength and the tenacity to serve as a fence post and needs to play in gaps for an even front to be most effective. Has clear physical talent to excel as a three-technique if he can learn to play with more consistent pad level and intensity.
---
Devon Still's Draft Stock
| | |
| --- | --- |
| Grade | Round |
| 7.01-9.00 | Top 10 |
| 6.01-7.00 | 1 |
| 6.00 | 1-2 |
| 5.61-5.99 | 2 |
| 5.60 | 2-3 |
| 5.41-5.59 | 3 |
| 5.40 | 3-4 |
| 5.31-5.39 | 4 |
| 5.30 | 4-5 |
| 5.21-5.29 | 5 |
| 5.20 | 5-6 |
| 5.16-5.19 | 6 |
| 5.15 | 6-7 |
| 5.11-5.14 | 7 |
| 5.10 | 7-PFA |
| 4.75-5.09 | PFA |
| 4.00-4.74 | FA |
*PFW Grade indicates the value PFW assigned to prospects.
*Draft Projection indicates where players are more likely to be drafted and reflects the consensus opinion from the NFL scouting community.