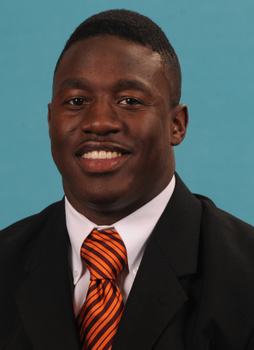 David Wilson - #4 - RB
| | |
| --- | --- |
| Height: | 5-9 5/8 |
| Weight: | 206 |
| Speed: | 4.44 |
| Arm: | 30 1/4 |
| Hand: | 9 3/8 |
| Wingspan: | 73 1/4 |
| Birthdate: | 06/15/1991 |
| Hometown: | Danville, VA |
| Grade: | 5.99 |
---
PROSPECT MEASURABLES
| Event | Ht | Wt | Hand | Arm | Wing | Wonderlic | 40 yard | BP | BJ | VJ | 20s | 60s | 3 Cn |
| --- | --- | --- | --- | --- | --- | --- | --- | --- | --- | --- | --- | --- | --- |
| 03/15/2012 Virginia Tech Pro Day | 5-9 7/8 | 206 | 9 1/4 | 30 1/2 | 74 | | 4.40 | | | | | | |
| 02/29/2012 Combine | 5-9 5/8 | 206 | 9 3/8 | 30 1/4 | 73 1/4 | | 4.41 | | 11'0" | 41 | 4.13 | 11.59 | 7.09 |
| 03/15/2011 Junior Pro Day | 5-10 | 205 | | | | | 4.40 | | | | | | |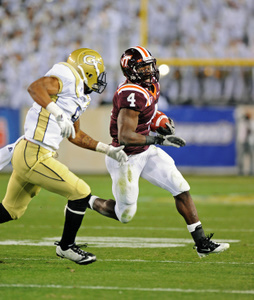 Notes:
The Virginia prep was named the Gatorade Player of the Year and the top-rated player in the state after rushing for 2,291 yards and 35 touchdowns as a senior. Also participated in track, winning the prep Nike Indoor Nationals triple jump title. Saw action in all 13 games as a true freshman in 2009, rushing 59 times for 334 yards (5.7-yard average) and four touchdowns and returned 17 kickoffs for 325 yards (19.1-yard average). Also competes for the track team at Virginia Tech, where he finished fourth in the triple jump at the ACC championships for the 2010 indoor and outdoor seasons. Rushed 113-619-5 (5.5) and caught 15 passes for 234 yards (15.6-yard average) and four touchdowns in 13 games in '10, including his first collegiate starts against Duke and Miami (Fla.). Was the Hokies' leading kickoff returner, with 22 returns for 584 yards (26.5-yard average) and two touchdowns — 92 yards against North Carolina State and a game-winning 90-yard scamper vs. Georgia Tech. Did not play against North Carolina (mononucleosis). Earned track All-America honors after placing sixth in the triple jump at the NCAA Outdoor Championships. In his only season as a featured back in '11, he was named the ACC Player of the Year and set the school record for rushing yards in a season after recording 290-1,709-9 (5.9). Also contributed 22-415-0 (18.9) as a kickoff returner and 22-129-1 (5.9) as a receiver in 14 starts. Fumbled nine times in 499 career touches and gained 5.8 yards per carry.
Positives:
Compactly built with defined, layered muscle — strong for his size. Terrific balance and flexibility. Outstanding athletic ability. Dynamic playmaker — can string moves together, elude multiple tacklers and create highlight-reel, plus-20-yard runs. Explosive. Good play speed and short-area burst. Sticks his foot in the ground and accelerates. Sees the cutback. Elusive — makes quick lateral cuts and leaves tacklers grasping at air. Can make something out of nothing. Surprising run strength and tackle-breaking ability — strong hips and thighs to bounce off tackles. Highly competitive and runs hard. Maintains stamina and is productive in the fourth quarter. Can catch outside his frame — is an effective outlet and creates after the catch. Outstanding return vision and traffic burst. Is likable and comes off like a big kid with a lighthearted, fearless personality. Has a 41-inch vertical jump, the best of all backs at the Combine.
Negatives:
Lacks ideal stature and bulk. Strength and speed does not consistently translate to power. Can be more patient and play off blocks better. Runs too tall through the hole and exposes his body to big hits. At times gets in trouble trying to do too much — averaged 0.47 yards lost per carry as a senior. Ball security has been an issue (fumbled seven times as a junior) — flags the ball and needs to be more protective. Still developing third-down skills — has inconsistent hands and is a soft blocker.
Summary:
A productive, competitive, playmaking space player with dynamite return skills. Has grown into a more effective inside runner, yet must prove that he can better secure the ball to consistently factor. Will especially appeal to teams employing one-cut, zone-running schemes. Has received first-round grades from NFL evaluators for his playmaking prowess, and unique balance and body control.
---
David Wilson's Draft Stock
| | |
| --- | --- |
| Grade | Round |
| 7.01-9.00 | Top 10 |
| 6.01-7.00 | 1 |
| 6.00 | 1-2 |
| 5.61-5.99 | 2 |
| 5.60 | 2-3 |
| 5.41-5.59 | 3 |
| 5.40 | 3-4 |
| 5.31-5.39 | 4 |
| 5.30 | 4-5 |
| 5.21-5.29 | 5 |
| 5.20 | 5-6 |
| 5.16-5.19 | 6 |
| 5.15 | 6-7 |
| 5.11-5.14 | 7 |
| 5.10 | 7-PFA |
| 4.75-5.09 | PFA |
| 4.00-4.74 | FA |
*PFW Grade indicates the value PFW assigned to prospects.
*Draft Projection indicates where players are more likely to be drafted and reflects the consensus opinion from the NFL scouting community.