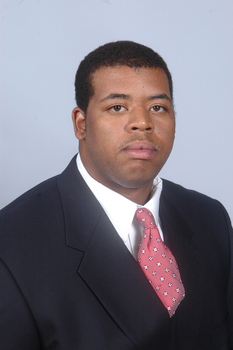 Cordy Glenn - #71 - OG-OT
| | |
| --- | --- |
| Height: | 6-5 3/4 |
| Weight: | 345 |
| Speed: | 5.09 |
| Arm: | 35 3/4 |
| Hand: | 10 1/8 |
| Wingspan: | 84 7/8 |
| Birthdate: | 09/18/1989 |
| Hometown: | Riverdale, GA |
| Grade: | 5.95 |
---
PROSPECT MEASURABLES
| Event | Ht | Wt | Hand | Arm | Wing | Wonderlic | 40 yard | BP | BJ | VJ | 20s | 60s | 3 Cn |
| --- | --- | --- | --- | --- | --- | --- | --- | --- | --- | --- | --- | --- | --- |
| 02/29/2012 Combine | 6-5 3/4 | 345 | 10 1/8 | 35 3/4 | 84 7/8 | | 5.09 | 31 | 7'9" | 23 1/2 | 5.06 | | 8.13 |
| 01/23/2012 Senior Bowl | 6-5 1/2 | 346 | 10 | 35 1/8 | 84 5/8 | | | | | | | | |
| 03/15/2011 Junior Pro Day | 6-5 7/8 | 336 | 10 1/8 | 34 1/4 | 84 1/4 | | 5.20 | | | | | | |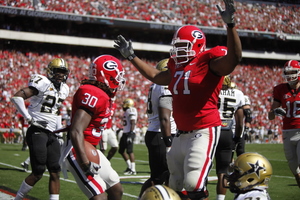 Notes:
Father was a power forward in basketball at Louisiana-Lafayette. Cordy played left tackle as a Georgia prep. Started 10-of-13 games as a true freshman in 2008 — seven at left guard and three at right guard. Started all 13 games in '09 — the final eight at left guard, four at left tackle and one at right guard. Started all 13 games at left guard in '10. Moved to left tackle in the spring of '11 and adapted to a new offensive line coach. Made all 14 starts at OLT spot in the fall.
Positives:
Extremely long arms with a rare combination of size, length and agility — has exceptional movement skill for a near-350-pounder and carries his weight very well. Can shuffle, slide and make the game look easy. Outstanding stopping power — is nearly immovable and seldom inverts. Has a strong punch and can engulf defenders when he gets his hands on them. Is very light on his feet, can pull and trap and erase linebackers. Has the sheer mass to dominate when he wants to.
Negatives:
Struggles to unlock his hips (even more glaring in Combine drills) and adjust to quicker blockers who can get underneath his pads (see Boise State). Tends to play tall and does not use the power and explosion in his body. Lacks lower-body strength. Will coast on his natural talent and play down to the level of competition. Has a soft temperament and does not play with a lot of urgency or breathe fire. Is a naïve follower and lacks great work habits — not a self-starter. Weight has tended to fluctuate and balloon (though he was asked to bulk up as a senior).
Summary:
Initially struggled adapting to the OLT position during the first half of senior season, but really acclimated late in the year when he returned to better playing shape and showed very well in the Senior Bowl. Can survive on the left side in the pros if he sheds some weight and drops to 330 pounds, but at worst, has proven he can be a Pro Bowl-caliber guard and has the power to play on the right side. Versatility is a big plus that could drive up his value into a top-20 pick. Is both quick and powerful and can mash in the run game and seal the edges. Ability to plug into any type of scheme will enhance his value.
---
Cordy Glenn's Draft Stock
| | |
| --- | --- |
| Grade | Round |
| 7.01-9.00 | Top 10 |
| 6.01-7.00 | 1 |
| 6.00 | 1-2 |
| 5.61-5.99 | 2 |
| 5.60 | 2-3 |
| 5.41-5.59 | 3 |
| 5.40 | 3-4 |
| 5.31-5.39 | 4 |
| 5.30 | 4-5 |
| 5.21-5.29 | 5 |
| 5.20 | 5-6 |
| 5.16-5.19 | 6 |
| 5.15 | 6-7 |
| 5.11-5.14 | 7 |
| 5.10 | 7-PFA |
| 4.75-5.09 | PFA |
| 4.00-4.74 | FA |
*PFW Grade indicates the value PFW assigned to prospects.
*Draft Projection indicates where players are more likely to be drafted and reflects the consensus opinion from the NFL scouting community.