Arizona State - Sun Devils
---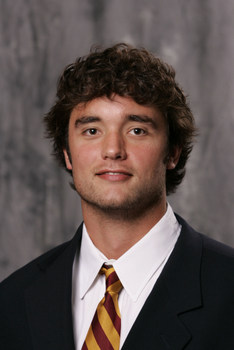 Brock Osweiler - #17 - QB
| | |
| --- | --- |
| Height: | 6-6 7/8 |
| Weight: | 242 |
| Speed: | 4.89 |
| Arm: | 33 7/8 |
| Hand: | 9 7/8 |
| Wingspan: | 79 3/8 |
| Birthdate: | 11/22/1990 |
| Hometown: | Coeur d'Alene, ID |
| Grade: | 5.52 |
---
PROSPECT MEASURABLES
| Event | Ht | Wt | Hand | Arm | Wing | Wonderlic | 40 yard | BP | BJ | VJ | 20s | 60s | 3 Cn |
| --- | --- | --- | --- | --- | --- | --- | --- | --- | --- | --- | --- | --- | --- |
| 03/16/2012 Arizona State Pro Day | | | | | | | | | | | | | |
| 02/29/2012 Combine | 6-6 7/8 | 242 | 9 7/8 | 33 7/8 | 79 3/8 | | | | | | | | |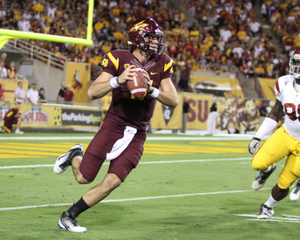 Notes:
As a prep senior, he was named the Gatorade Player of the Year for Montana after throwing 29 touchdown passes and rushing for 13 TDs. Was also a standout basketball player, committing to play for Gonzaga University as a high school sophomore before deciding to focus only on football. Saw action in six games as a true freshman in 2009, making a start against Oregon, and completed 24-of-55 pass attempts (43.6 percent) for 249 yards with two touchdowns and two interceptions. Became the first ASU true freshman to start a game at quarterback since Jake Plummer in 1993. In '10, he played in six contests, with a start against Arizona in the season finale, and tallied 62-109-797-5-0 (57.0). Led the Sun Devils back from a 17-0 deficit against UCLA after starter Stephen Threet was injured, throwing for 380 yards and four touchdowns in a 55-34 win. Had a record-setting first season as a starter in '11, becoming the first Sun Devils quarterback to throw for more than 4,000 yards in a season. He also set records for completions and attempts in a year. For the season, he threw for 326-516-4,036-26-13 (63.2) and rushed 83-90-6 (1.1) in 13 starts. Had a 7-8 career record in 15 games as a starter. Team captain.
Positives:
Excellent height to see the field. Has a live arm and can deliver the ball in rhythm downfield and throw darts to short-to-intermediate stationary targets. Showed improved poise as the season wore on and clearly has room to grow. Can avoid the first wave and elude the rush. Can roll and sprint out and make some plays outside the pocket. Highly competitive and it shows. Fiery on-field playing temperament. Commands respect in the huddle. Confident, charismatic, vocal leader.
Negatives:
Limited playing experience — only a one-year starter. Elbows and knees tend to jut given body length — creates wasted motion in his delivery. Winds to chuck it and tends to push the ball short — inconsistent release point and mechanics. Erratic placement and accuracy — throws some dirtballs and sprays the ball. Can do a better job changing ball speeds. Very raw scan-progression decision maker — tends to lock on to primary targets and force the ball (see Boise State). Average eyes and instincts. Narrow field vision — does not see open receivers. Pocket presence is still developing — both vacates early and does not feel quick pressure. Tends to panic. Needs to improve blitz recognition and coverage awareness.
Summary:
An intriguing developmental prospect sorely in need of more seasoning, Osweiler would benefit most from a few years of nurturing where he could advance his understanding of the game. However, he possesses the movement skill and arm talent to emerge as an eventual starter in a vertical passing attack with continued refinement and can be drafted more highly than he grades on tape because of his upside.
---
Brock Osweiler's Draft Stock
| | |
| --- | --- |
| Grade | Round |
| 7.01-9.00 | Top 10 |
| 6.01-7.00 | 1 |
| 6.00 | 1-2 |
| 5.61-5.99 | 2 |
| 5.60 | 2-3 |
| 5.41-5.59 | 3 |
| 5.40 | 3-4 |
| 5.31-5.39 | 4 |
| 5.30 | 4-5 |
| 5.21-5.29 | 5 |
| 5.20 | 5-6 |
| 5.16-5.19 | 6 |
| 5.15 | 6-7 |
| 5.11-5.14 | 7 |
| 5.10 | 7-PFA |
| 4.75-5.09 | PFA |
| 4.00-4.74 | FA |
*PFW Grade indicates the value PFW assigned to prospects.
*Draft Projection indicates where players are more likely to be drafted and reflects the consensus opinion from the NFL scouting community.