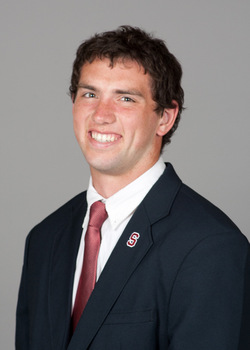 Andrew Luck - #12 - QB
| | |
| --- | --- |
| Height: | 6-4 |
| Weight: | 234 |
| Speed: | 4.64 |
| Arm: | 32 5/8 |
| Hand: | 10 |
| Wingspan: | 77 7/8 |
| Birthdate: | 09/12/1989 |
| Hometown: | Houston, TX |
| Grade: | 8.50 |
---
PROSPECT MEASURABLES
| Event | Ht | Wt | Hand | Arm | Wing | Wonderlic | 40 yard | BP | BJ | VJ | 20s | 60s | 3 Cn |
| --- | --- | --- | --- | --- | --- | --- | --- | --- | --- | --- | --- | --- | --- |
| 03/22/2012 Stanford Pro Day | 6-4 1/8 | 237 | 10 | 32 3/4 | 76 1/4 | | | | | | | | |
| 02/29/2012 Combine | 6-4 | 234 | 10 | 32 5/8 | 77 7/8 | | 4.64 | | 10'4" | 36 | 4.28 | | 6.80 |
| 03/15/2011 Junior Pro Day | 6-3 1/4 | 235 | | | | | 4.75 | | | | | | |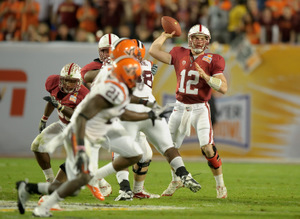 Notes:
Father, Oliver, was drafted in the second round (44th overall) by the Houston Oilers in 1982 and only saw action as a starter in '83 before serving as Warren Moon's backup for two years. He currently serves as West Virginia's athletic director. Andrew was a highly recruited Texas prep who passed for 7,139 yards and rushed for 2,085 yards in three years as a starter. Also was his high school's valedictorian. Redshirted in 2008. Started all 12 games in '09, completing 162-of-288 pass attempts (56.2 percent) for 2,575 yards with 13 touchdowns and four interceptions. Added 61 carries for 354 yards (5.8-yard average) and two touchdowns and an 11-yard reception. Broke his right (throwing) index finger on second-to-last possession against Notre Dame and did not play in Sun Bowl against Oklahoma after requiring surgery on the finger. Named Pac-10 Offensive Player of the Year and finished second in the Heisman balloting in '10 after passing 263-372-3,338-32-8 (70.7) and rushing 55-453-3 (8.2) in 13 starts. In '11, he repeated as conference player of the year and as runner up for the Heisman Trophy while adding the Maxwell Award (college player of the year). Broke his own school records for touchdown passes and completion percentage (also a Pac-12 record) after registering 288-404-3,517-37-10 (71.3) in 13 starts. Added 47-150-2 (3.2) rushing. Finished his career as Stanford's all-time leader in TD passes (82), second in passing yards (9,430) and had a 31-7 record in 38 starts. Team captain.
Positives:
Well-built with a strong trunk. Outstanding passing instincts and awareness — excels at dissecting defenses, reading coverages and exploiting matchups. Confident decision maker — knows where to go with the ball, scans quickly and cycles through progressions. Clean footwork — works from under center and in the gun. Smooth, easy delivery — spins it tightly. Highly accurate, especially inside 20 yards. Extremely intelligent and is capable of handling a complex playbook. Good escapability in the pocket, can slide and create some plays on the move. Strong, tough, sneaky-athletic runner. Consistently moves the sticks with his arm and legs and can sustain drives and convert in critical situations. Can handle pressure and lead his team back from deficits — witness four late scoring drives engineered against USC in 2011 and game-winning drive orchestrated with a minute on the clock vs. the Trojans in 2010. Plays with poise and composure — can shake off an interception and overcome adversity. Demonstrates a mastery in hurry-up situations. Extremely humble, respected team leader — has remained grounded despite all the publicity and has an endearing, vulnerable leadership style. Extremely mature, well-spoken and will represent a franchise with class. Has NFL pedigree, has been around the game all his life and approaches the game like a pro. Extremely durable.
Negatives:
Lacks elite arm strength to uncork lasers off his back foot under duress — will hang some floaters backside. Cannot easily manipulate his arm and throwing platform and always snap it quickly in the face of pressure. Not a natural deep-ball thrower — makes receivers work for the ball downfield. Might struggle to handle elements and rip the ball through the wind in December. Benefited from a talented offensive line and supporting cast. Evaluators say he is almost too nice and lacks the red ass that John Elway and Peyton Manning have possessed to challenge teammates when needed.
Summary:
A very advanced, calculated precision passer crafted in a pro-style quarterbacking incubator under the guidance of Jim Harbaugh and David Shaw, Luck possesses the intelligence, toughness, intangibles, accuracy and escapability to become an elite NFL quarterback. Can thrive in an up-tempo, matchup offense designed to offer great flexibility audibilizing at the line of scrimmage. A coach's dream, Luck will assimilate the NFL game rapidly and has perennial All-Pro potential despite some arm-talent limitations that could make him most ideally suited for a warm-weather, West Coast climate or a dome team. Is one of the safest, surefire QB selections in draft history with few discernible blemishes and has slam-dunk potential in a Mike Holmgren- or Mike Shanahan-type rhythm offense.
---
Andrew Luck's Draft Stock
| | |
| --- | --- |
| Grade | Round |
| 7.01-9.00 | Top 10 |
| 6.01-7.00 | 1 |
| 6.00 | 1-2 |
| 5.61-5.99 | 2 |
| 5.60 | 2-3 |
| 5.41-5.59 | 3 |
| 5.40 | 3-4 |
| 5.31-5.39 | 4 |
| 5.30 | 4-5 |
| 5.21-5.29 | 5 |
| 5.20 | 5-6 |
| 5.16-5.19 | 6 |
| 5.15 | 6-7 |
| 5.11-5.14 | 7 |
| 5.10 | 7-PFA |
| 4.75-5.09 | PFA |
| 4.00-4.74 | FA |
*PFW Grade indicates the value PFW assigned to prospects.
*Draft Projection indicates where players are more likely to be drafted and reflects the consensus opinion from the NFL scouting community.