Midwestern State (Texas) - Mustangs
---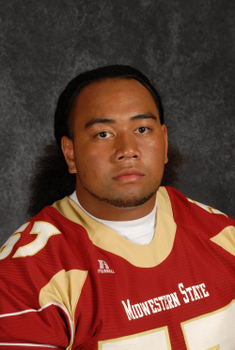 Amini Silatolu - #57 - OG
| | |
| --- | --- |
| Height: | 6-3 5/8 |
| Weight: | 311 |
| Speed: | 5.39 |
| Arm: | 33 |
| Hand: | 10 1/8 |
| Wingspan: | 79 |
| Birthdate: | 09/16/1988 |
| Hometown: | Tracy, CA |
| Grade: | 6.15 |
---
PROSPECT MEASURABLES
| Event | Ht | Wt | Hand | Arm | Wing | Wonderlic | 40 yard | BP | BJ | VJ | 20s | 60s | 3 Cn |
| --- | --- | --- | --- | --- | --- | --- | --- | --- | --- | --- | --- | --- | --- |
| 03/15/2012 Midwestern State Pro Day | 6-3 1/2 | 313 | 10 | 33 1/2 | 79 5/8 | | | | 9'2" | 32 | | | |
| 02/29/2012 Combine | 6-3 5/8 | 311 | 10 1/8 | 33 | 79 | | 5.34 | 28 | 8'11" | 31 1/2 | 4.89 | | 7.96 |
| 03/15/2011 Junior Pro Day | 6-3 1/2 | 312 | 10 | 33 1/4 | 79 7/8 | | 5.46 | | | | | | |
Notes:
Last name is pronounced "sill-uh-TOE-lou." Played defensive line as a California prep. Started for two seasons on the offensive line at San Joaquin Delta College (Calif.) in 2007 and '08. Signed with Nevada for the '09 season but didn't qualify academically and sat out the year. Returned to football in '10 and was named co-Lineman of the Year and selected to multiple Division II All-America teams after starting nine games at left tackle. Missed three games with a knee injury. Started 10 games at left tackle in '11 and was named to the AP Little All-America first team. Anchored the line for an offense that produced a Division II-best 531.9 yards per game. Team captain.
Positives:
Plays with aggression. Very heavy-handed with power in his punch. Has a nasty on-field playing temperament and seeks to bury defenders in the run game. Has a strong base, plays with power and relishes finishing blocks. Climbs defenders and can run the field and pick off multiple defenders. Likes to play and it shows — outstanding on-field energy and tempo. Street-tough and does not back down from a challenge. Good athlete — carries his weight well. Outstanding Combine positional drill performance and movement skill in agility drills. Has a 311⁄2-inch vertical jump.
Negatives:
Shows some small-school rawness in his play and can improve kick slide and hand use. Footwork is undisciplined. Will fall off blocks overaggressively attacking. Character will have to be evaluated closely. Academics have been an issue throughout career and some mental lapses show in his play — is not always quick to sort out the blitz or anticipate where pressure is coming.
Summary:
Tough, physical, nasty small-college left tackle who projects to guard in the pros. Stands out on the field and dominates lesser competition, but did not play in any all-star games to prove himself and has some off-field issues and intelligence concerns that could push down his draft status. Grades out like a first-round talent and should be able to step into a starting lineup readily on the inside and develop into a Pro Bowl-caliber performer with simple assignments. Scouts have compared him to New Orleans Saints Pro Bowl OG Jahri Evans, but he is much more athletic pulling and playing in space and tape will draw instant man-crushes from good evaluators. Can win with power or quickness and fit any type of blocking scheme.
---
Amini Silatolu's Draft Stock
| | |
| --- | --- |
| Grade | Round |
| 7.01-9.00 | Top 10 |
| 6.01-7.00 | 1 |
| 6.00 | 1-2 |
| 5.61-5.99 | 2 |
| 5.60 | 2-3 |
| 5.41-5.59 | 3 |
| 5.40 | 3-4 |
| 5.31-5.39 | 4 |
| 5.30 | 4-5 |
| 5.21-5.29 | 5 |
| 5.20 | 5-6 |
| 5.16-5.19 | 6 |
| 5.15 | 6-7 |
| 5.11-5.14 | 7 |
| 5.10 | 7-PFA |
| 4.75-5.09 | PFA |
| 4.00-4.74 | FA |
*PFW Grade indicates the value PFW assigned to prospects.
*Draft Projection indicates where players are more likely to be drafted and reflects the consensus opinion from the NFL scouting community.