South Carolina - Gamecocks
---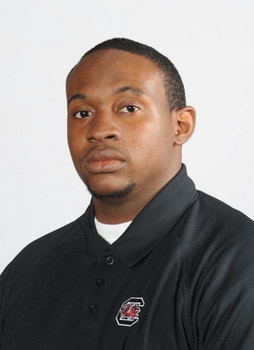 Alshon Jeffery - #1 - WR
| | |
| --- | --- |
| Height: | 6-2 7/8 |
| Weight: | 216 |
| Speed: | 4.54 |
| Arm: | 33 |
| Hand: | 10 1/4 |
| Wingspan: | 80 1/8 |
| Birthdate: | 02/14/1990 |
| Hometown: | St. Matthews, SC |
| Grade: | 5.70 |
---
PROSPECT MEASURABLES
| Event | Ht | Wt | Hand | Arm | Wing | Wonderlic | 40 yard | BP | BJ | VJ | 20s | 60s | 3 Cn |
| --- | --- | --- | --- | --- | --- | --- | --- | --- | --- | --- | --- | --- | --- |
| 03/28/2012 South Carolina Pro Day | 6-2 3/4 | 213 | 9 5/8 | 33 | 80 1/4 | | 4.49 | | 10'2" | 36 1/2 | 4.17 | 11.11 | 6.71 |
| 02/29/2012 Combine | 6-2 7/8 | 216 | 10 1/4 | 33 | 80 1/8 | | | | | | | | |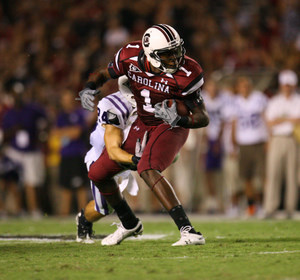 Notes:
First name is pronounced "AL-shon." Earned all-state honors his senior season as a defensive back, in addition to playing wide receiver and returning kicks as a South Carolina prep. Also a standout basketball player who helped his team capture four state titles. Originally committed to USC but reopened his recruitment and signed with South Carolina. Was team's leading receiver as a true freshman in '09 after grabbing 46 passes for 763 yards (16.6-yard average) and six touchdowns in 13 games (starting final seven). Had a stellar '10 season, recording 88-1,517-9 (17.2) to set the school's single-season records for receptions and receiving yards in 14 starts. Caught 49-762-8 (15.6) in 13 games (12 starts) in '11. Did not start against Navy after breaking a team rule. Broke a bone in his hand in the season finale vs. Clemson but returned to the game and caught an 18-yard TD to seal the victory. Had surgery following the game. Was named MVP of the Capital One Bowl despite being ejected in the second half for fighting with Nebraska CB Alfonzo Dennard. Finished his career with 3,042 receiving yards — a school record, the second-highest total in SEC history and one of only three players in conference history to surpass 3,000 yards. Caught at least one pass in each of his final 36 games. Only two career fumbles. Team captain.
Positives:
Outstanding size and arm length to climb the ladder and outmuscle defensive backs. Attacks the ball in the air and can pluck it away from a crowd. Offers a big target and wide catching radius and snatches the ball out of the air. Takes long, sneaky strides once he gets going and eats ground downfield. Good body control. Can separate with body length at the last second. Makes difficult catches look easy and excels making one-handed snags. Makes some subtle cuts and plays faster with the ball in his hands. Good run strength. Is physically tough and will play through injuries. Outstanding career production. Came through in the clutch and was a go-to guy. Strong red-zone producer.
Negatives:
Soft-bodied and smooth-muscled. Takes time to roll off the line and cannot accelerate instantly — could struggle beating physical press coverage. Marginal release quickness — at times looks like he is running in sand. Often needs to push off to separate and most catches are contested. Average explosion and leaping ability. Cannot sink his hips and pop out of breaks — gathers to cut. Not a precise route runner — too often drifts — and ran a simple route tree in an unsophisticated offense that has not translated well to the pro game for receiving talent. Concentration wanes — makes some easy, can-of-corn drops (see Mississippi State). Inconsistent effort as a blocker. Not elusive after the catch. Weight has fluctuated throughout his career and has had a tendency to balloon — played 15-20 pounds heavier than he showed at the Combine. Work habits and discipline can improve. Did not come across well in team interviews.
Summary:
One of the best receivers in the draft playing the ball in the air, Jeffery's production dipped as a junior when he was noticeably out of shape with an inconsistent, revolving door at the quarterback position. Cut bad weight prior to the Combine but still must show that he can be more than a jump-ball, possession receiver and can separate vs. NFL defensive backs. Must figure out the meaning of hard work to produce in the pros.
---
Alshon Jeffery's Draft Stock
| | |
| --- | --- |
| Grade | Round |
| 7.01-9.00 | Top 10 |
| 6.01-7.00 | 1 |
| 6.00 | 1-2 |
| 5.61-5.99 | 2 |
| 5.60 | 2-3 |
| 5.41-5.59 | 3 |
| 5.40 | 3-4 |
| 5.31-5.39 | 4 |
| 5.30 | 4-5 |
| 5.21-5.29 | 5 |
| 5.20 | 5-6 |
| 5.16-5.19 | 6 |
| 5.15 | 6-7 |
| 5.11-5.14 | 7 |
| 5.10 | 7-PFA |
| 4.75-5.09 | PFA |
| 4.00-4.74 | FA |
*PFW Grade indicates the value PFW assigned to prospects.
*Draft Projection indicates where players are more likely to be drafted and reflects the consensus opinion from the NFL scouting community.