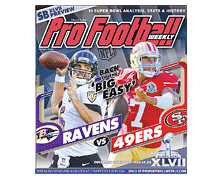 PFW Online: Vol. 27, Issue 25
Published: 2013-01-21
Cover Date: February 3, 2013
This is the issue for the Super Bowl XLVII preview and conference championship game coverage.
SUPER BOWL XLVII PREVIEW
PFW breaks down the NFL title game, which will feature John Harbaugh's Ravens facing Jim Harbaugh's 49ers in New Orleans on Sunday, Feb. 3. We analyze the biggest matchups on offense, defense and special teams, and deliver the five keys to the game.
PUBLISHER'S COMMENTARY
Hub Arkush looks ahead to the biggest issues facing the NFL in 2013, both on and off the field.
NFLIST
The hangover for Super Bowl losers has been quite a doozy in recent years, as few teams have followed up the title-game appearance with sustained success the next season.
DEPARTMENTS
The Way We See It
Super Bowl XLVIII odds
Way We Hear It
Audibles
Griddy Awards
Opinion: Editorial, letters, Ron Borges column
Columnist: Eric Edholm
Handicapper's Corner: Staff selections
Super Bowl team rosters, depth charts
Super Bowl team statistics
Super Bowl history
NFC/AFC championship game coverage
NFL transactions
PFW Online
PFW Online is the electronic version of our Pro Football Weekly print newsmagazine.
We publish 30 issues throughout the year, weekly during the season and monthly during the offseason, and these issues are made available to PFW Online members in PDF format.
Since our electronic edition is always available by 7 p.m. ET on the day that it's published, it's your fastest way to get an issue of Pro Football Weekly.
You'll have access to everything in our print edition in the same familiar look and feel, plus a fully-searchable and easy way to enjoy it.