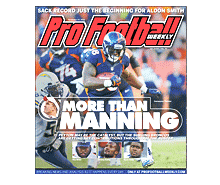 PFW Online: Vol. 27, Issue 20
Published: 2012-12-18
Cover Date: December 23, 2012
This is the issue for Week 16 previews and Week 15 game coverage.
COVER STORY
We take an in-depth look into how an unheralded supporting cast has combined with Peyton Manning to make the Broncos a legitimate Super Bowl contender in relatively short order.
MORE THAN SACKS
In just his second pro season, 49ers OLB Aldon Smith finds himself pushing to break the NFL's all-time single-season sacks record. We tell you what it means to him, and how he's accomplishing his success.
FANTASY FOOTBALL
The Fantasy Buzz presents trends to be aware of, which players to exploit or avoid, and the latest fantasy news for championship week. Plus, the Fantasy Doctor offers up winning advice to help your roster.
DEPARTMENTS
The Way We See It
Power rankings
Way We Hear It
Audibles
Opinion: Editorial, letters, Publisher's Pen
Columnists: Dan Parr, Barry Jackson
NFL transactions
Handicapper's Corner: Staff selections, Mike Wilkening column
Week 16 game previews
Week 15 game coverage
AFC statistical leaders
NFC statistical leaders
Team statistics
Team rankings
Dan Arkush's A-bombs
NFList: Youngest Defensive Player of the Year winners
Next issue: Monday, December 24, 2012
PFW Online
PFW Online is the electronic version of our Pro Football Weekly print newsmagazine.
We publish 30 issues throughout the year, weekly during the season and monthly during the offseason, and these issues are made available to PFW Online members in PDF format.
Since our electronic edition is always available by 7 p.m. ET on the day that it's published, it's your fastest way to get an issue of Pro Football Weekly.
You'll have access to everything in our print edition in the same familiar look and feel, plus a fully-searchable and easy way to enjoy it.