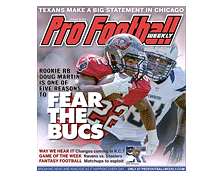 PFW Online: Vol. 27, Issue 15
Published: 2012-11-13
Cover Date: November 18, 2012
This is the issue for Week 11 previews and Week 10 game coverage.
COVER STORY
We take an in-depth look at the five biggest reasons for the Buccaneers' offensive explosion this season, with QB Josh Freeman's more efficient, less turnover-prone performances being a major factor.
TEXANS MAKE STATEMENT
The AFC has struggled head-to-head against the NFC this season but Houston proved it's one of the toughest teams in the league, regardless of conference affiliation, in a Week 10 win at Chicago.
GAME OF THE WEEK
The Ravens and Steelers renew their bitter AFC North rivalry in Week 11 and we analyze the game from both teams' perspective, telling you which team has the edge in this crucial game with playoff implications.
DEPARTMENTS
The Way We See It
Power rankings
Way We Hear It
Audibles
2013 NFL draft notes
Opinion: Editorial, letters, Publisher's Pen
Columnist: Kevin Fishbain
Fantasy Football: The Fantasy Buzz, Pat Fitzmaurice column
Handicapper's Corner: Staff selections, Mike Wilkening column
Week 11 game previews
NFL transactions
Week 10 game coverage
AFC statistical leaders
NFC statistical leaders
Team statistics
Team rankings
Dan Arkush's A-bombs
NFList: Players who have most consecutive seasons with double-digit sacks
PFW Online
PFW Online is the electronic version of our Pro Football Weekly print newsmagazine.
We publish 30 issues throughout the year, weekly during the season and monthly during the offseason, and these issues are made available to PFW Online members in PDF format.
Since our electronic edition is always available by 7 p.m. ET on the day that it's published, it's your fastest way to get an issue of Pro Football Weekly.
You'll have access to everything in our print edition in the same familiar look and feel, plus a fully-searchable and easy way to enjoy it.