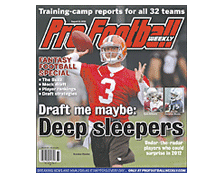 PFW Online: Vol. 27, Issue 03
Published: 2012-07-30
Cover Date: August 12, 2012
This is the second fantasy football issue of the season and this year's coverage of training camps.
TRAINING-CAMP REPORTS
We shine a spotlight on each team in every division as training camps get under way. We name a veteran to watch, a rookie to watch, the strongest position and the weakest position for all 32 teams.
FANTASY BUZZ
The Fantasy Buzz offers the latest player news as training camps begin. Find out which players hope to capitalize on strong springs and play a bigger role and which players are in a fight for their roster spot.
DEEP SLEEPERS
We shed some light on players, listed by position, who could emerge from the deep, dark corners of the NFL to become viable fantasy producers in 2012.
MOCK DRAFT CENTRAL
Our 12-team mock draft gives you an idea of where players will come off the board. We let you in on basic draft strategies to select a better team. And don't miss our exclusive, updated draft board.
DEPARTMENTS
The Way We See It
Power rankings
The Way We Hear It
Opinion: Editorial, letters, Publisher's Pen
Columnists: Eric Edholm, Ron Borges, Dan Arkush's A-bombs
NFL transactions
Audibles
NFList: Where nine players with the franchise tag stand
NEXT ISSUE: August 13
PFW Online
PFW Online is the electronic version of our Pro Football Weekly print newsmagazine.
We publish 30 issues throughout the year, weekly during the season and monthly during the offseason, and these issues are made available to PFW Online members in PDF format.
Since our electronic edition is always available by 7 p.m. ET on the day that it's published, it's your fastest way to get an issue of Pro Football Weekly.
You'll have access to everything in our print edition in the same familiar look and feel, plus a fully-searchable and easy way to enjoy it.