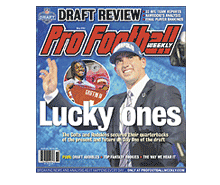 PFW Online: Vol. 27, Issue 01
Published: 2012-04-30
Cover Date: May 2012
This is the NFL draft review issue.
COVER STORY
A wild first round, marked by a record 19 trades, kicked off an intriguing 2012 NFL draft. We take a close look at a draft that benefited greatly from underclassmen talent, including two star QBs at the top.
TEAM-BY-TEAM ANALYSIS
Find out how all 32 teams did in the 2012 NFL draft. Which needs did they fill? Which picks were the best value? What, if anything, do they still need to address? We analyze each team's draft.
POST-DRAFT RANKINGS
Draft analyst Nolan Nawrocki offers his exclusive rankings of the top prospects who were available in the 2012 NFL draft, ranking them by position and regardless of position.
FANTASY FOOTBALL
Fantasy football expert William Del Pilar identifies the top 10 rookies from a fantasy standpoint and lets you know what to expect from them in their first NFL season.
DEPARTMENTS
The Way We See It
2012 NFL draft trades
The Way We Hear It
Draft audibles
Opinion: Editorial, letters, Publisher's Pen
Columnists: Mike Wilkening, Barry Jackson, Dan Arkush's A-bombs
Free-agency: Signings, Top 100 chart
2012 team schedules
2012 week schedule
NFL transactions
NFList: Looking at QB duos who went 1-2 in the draft
NEXT ISSUE: June 25
SPECIAL BONUS: Don't forget to get your bonus digital edition of the 2012 Draft Preview. Get it now.
PFW Online
PFW Online is the electronic version of our Pro Football Weekly print newsmagazine.
We publish 30 issues throughout the year, weekly during the season and monthly during the offseason, and these issues are made available to PFW Online members in PDF format.
Since our electronic edition is always available by 7 p.m. ET on the day that it's published, it's your fastest way to get an issue of Pro Football Weekly.
You'll have access to everything in our print edition in the same familiar look and feel, plus a fully-searchable and easy way to enjoy it.