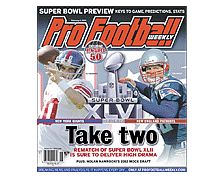 PFW Online: Vol. 26, Issue 27
Published: 2012-01-23
Cover Date: February 5, 2012
This is the issue for the Super Bowl XLVI preview and conference championship game coverage.
SUPER BOWL XLVI PREVIEW
The Patriots and Giants know each other well, having faced each other earlier in the season and, more famously, in Super Bowl XLII. Find out how these teams match up against each other and what are the keys to victory for both squads.
SUPER 50
We talked to our numerous sources around the league to help us put together our exclusive annual ranking of the top 50 players of the 2011 season.
WELCOME TO THE PARTY
PFW selects the six new teams we believe will make the playoffs in 2012 and tell you why these teams can make the jump into the postseason after missing the playoffs in '11.
2012 MOCK DRAFT
PFW draft analyst Nolan Nawrocki projects the first round of the 2012 NFL draft and tells you which college stars are going to come off the board early and why they would be a fit for that particular team.
DEPARTMENTS
The Way We See It
Early odds for Super Bowl XLVII
The Way We Hear It
Publisher's Commentary
Griddy Awards
Opinion: Editorial, letters, Ron Borge column
Columnists: Mike Beacom column, Dan Arkush's A-bombs
Handicapper's Corner: Staff selections
Mike Wilkening column
NFC season in review
AFC season in review
Super Bowl team stats
Super Bowl history
Conference championship game coverage
NFL transactions
Audibles
NFList: Best record hasn't translated in playoffs
NEXT ISSUE: Wednesday, February 8, 2012
PFW Online
PFW Online is the electronic version of our Pro Football Weekly print newsmagazine.
We publish 30 issues throughout the year, weekly during the season and monthly during the offseason, and these issues are made available to PFW Online members in PDF format.
Since our electronic edition is always available by 7 p.m. ET on the day that it's published, it's your fastest way to get an issue of Pro Football Weekly.
You'll have access to everything in our print edition in the same familiar look and feel, plus a fully-searchable and easy way to enjoy it.