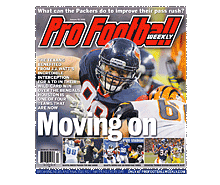 PFW Online: Vol. 26, Issue 25
Published: 2012-01-09
Cover Date: January 15, 2012
This is the issue for divisional playoff previews and wild-card game coverage.
WHERE'S THE PASS RUSH?
In 2010, Green Bay was profi cient in sacking opposing passers. But the 15-1 Packers are struggling to take down quarterbacks this season.
VERSATILE PATRIOTS
In order to get the most out of his roster, Bill Belichick has found several versatile players who can play more than one position.
SPECIAL SAN FRANCISCANS
Brad Seely's special-teams units are a major reason for the success the 49ers have enjoyed during the 2011 season.
Q&A WITH HALOTI NGATA
PFW shares its exclusive Q&A with Ravens Pro Bowl DT Haloti Ngata.
DEPARTMENTS
The Way We See It
2012 NFL draft order
The Way We Hear It
Opinion: Editorial, letters, Publisher's Pen
Columnists: Eli Kaberon, Ron Borges, Dan Arkush's A-bombs
Handicapper's Corner: Staff selections
Mike Wilkening column
Divisional playoffs game previews
Fantasy football: Big questions for 2012
NFL transactions
AFC statistical leaders
NFC statistical leaders
Team statistics
Team rankings
Wild-card playoff game coverage
Audibles
NFList: Team records set during the 2011 season
PFW Online
PFW Online is the electronic version of our Pro Football Weekly print newsmagazine.
We publish 30 issues throughout the year, weekly during the season and monthly during the offseason, and these issues are made available to PFW Online members in PDF format.
Since our electronic edition is always available by 7 p.m. ET on the day that it's published, it's your fastest way to get an issue of Pro Football Weekly.
You'll have access to everything in our print edition in the same familiar look and feel, plus a fully-searchable and easy way to enjoy it.