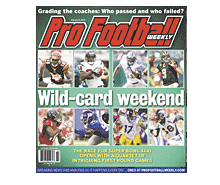 PFW Online: Vol. 26, Issue 24
Published: 2012-01-02
Cover Date: January 8, 2012
This is the issue for wild-card previews and Week 17 game coverage.
COVER STORY
Check out our in-depth guide to the 12 playoff teams that are vying for this season's Lombardi Trophy. For each team, we give you the keys to success on offense and defense, a player to watch and what must happen for the team to win Super Bowl XLVI.
COACHING GRADES
We analyze the job that each of the 35 NFL coaches did during the 2011 season, then rank them by grade from best to worst.
TUCK RULE REVISITED
Ten years ago, the fates of the Patriots and Raiders were altered because of an obscure rule that overturned a Tom Brady fumble and allowed New England a chance to rally for a miraculous victory.
DEPARTMENTS
The Way We See It
Power rankings
The Way We Hear It
Opinion: Editorial, letters, Publisher's Pen
Columnists: Eric Edholm, Barry Jackson, Dan Arkush's A-bombs
Handicapper's Corner: Staff selections
Mike Wilkening column
Wild-card game previews
Fantasy football playoff rankings
Week 17 game coverage
AFC statistical leaders
NFC statistical leaders
Team statistics
Team rankings
NFL transactions
Audibles
NFList: Three surprise teams, three disappointing teams
PFW Online
PFW Online is the electronic version of our Pro Football Weekly print newsmagazine.
We publish 30 issues throughout the year, weekly during the season and monthly during the offseason, and these issues are made available to PFW Online members in PDF format.
Since our electronic edition is always available by 7 p.m. ET on the day that it's published, it's your fastest way to get an issue of Pro Football Weekly.
You'll have access to everything in our print edition in the same familiar look and feel, plus a fully-searchable and easy way to enjoy it.