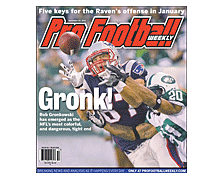 PFW Online: Vol. 26, Issue 22
Published: 2011-12-19
Cover Date: December 25, 2011
This is the issue for Week 16 previews and Week 15 game coverage.
COVER STORY
Patriots TE Rob Gronkowski has become a phenomenon with a recordsetting season. He's already the most complete tight end in the NFL, and it's scary to think that the second-year pro has room to improve.
CAN RAVENS' OFFENSE FLY?
Joe Flacco has won four playoff games in three years as the Ravens' starting quarterback. But what do Flacco and the Baltimore offense need to do to get over the hump and reach the Super Bowl?
JAGUARS STILL HAVE MOJO
Despite the struggles of a rookie quarterback and a dearth of WR talent, Jaguars RB Maurice Jones-Drew continues to excel.
FANTASY FOOTBALL
The Fantasy Buzz presents trends to be aware of, which players to exploit or avoid, and the latest fantasy news for the fantasy playoffs. Plus, the Fantasy Doctor offers up winning advice to help your roster.
DEPARTMENTS
The Way We See It
Power rankings
The Way We Hear It
Opinion: Editorial, letters, Publisher's Pen
Columnists: Dan Parr, Barry Jackson, Dan Arkush's A-bombs
NFL transactions
Handicapper's Corner: Staff selections
Mike Wilkening column
Week 16 game previews
Week 15 game coverage
AFC statistical leaders
Team statistics
Team rankings
NFC statistical leaders
Audibles
NFList: The top yardage seasons for rookie QBs
NEXT ISSUE: Tuesday, December 27, 2011
PFW Online
PFW Online is the electronic version of our Pro Football Weekly print newsmagazine.
We publish 30 issues throughout the year, weekly during the season and monthly during the offseason, and these issues are made available to PFW Online members in PDF format.
Since our electronic edition is always available by 7 p.m. ET on the day that it's published, it's your fastest way to get an issue of Pro Football Weekly.
You'll have access to everything in our print edition in the same familiar look and feel, plus a fully-searchable and easy way to enjoy it.