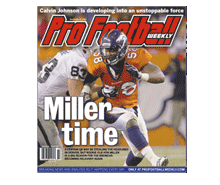 PFW Online: Vol. 26, Issue 20
Published: 2011-12-05
Cover Date: December 11, 2011
This is the issue for Week 14 previews and Week 13 game coverage.
COVER STORY
Tim Tebow has attracted lots of attention, but rookie OLB Von Miller has played a key role in the Broncos' surprising turnaround, too. In this profi le, fi nd out why Miller is making such an immediate impact.
MEGATRON MANIA
Lions WR Calvin Johnson isn't like the other fl ashy diva wideouts in the league, quietly going about his business as one of the more diffi cult-to-stop offensive weapons in the NFL.
FANTASY FOOTBALL
With the fantasy playoffs upon us, "The Buzz" presents trends to be aware of, which players to exploit or avoid, and the latest fantasy news. Plus, the Fantasy Doctor shines a light on the fantasy world.
DEPARTMENTS
The Way We See It
Power rankings
The Way We Hear It
Opinion: Editorial, letters, Publisher's Pen
Columnists: Eric Edholm, Barry Jackson, Dan Arkush's A-bombs
NFL transactions
Handicapper's Corner: Staff selections
Mike Wilkening column
Week 14 game previews
Week 13 game coverage
AFC statistical leaders
NFC statistical leaders
Team statistics
Team rankings
2012 NFL draft notes
Audibles
NFList: The worst veteran personnel moves of 2011?
PFW Online
PFW Online is the electronic version of our Pro Football Weekly print newsmagazine.
We publish 30 issues throughout the year, weekly during the season and monthly during the offseason, and these issues are made available to PFW Online members in PDF format.
Since our electronic edition is always available by 7 p.m. ET on the day that it's published, it's your fastest way to get an issue of Pro Football Weekly.
You'll have access to everything in our print edition in the same familiar look and feel, plus a fully-searchable and easy way to enjoy it.