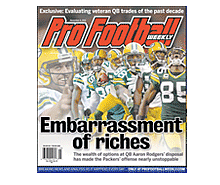 PFW Online: Vol. 26, Issue 15
Published: 2011-10-31
Cover Date: November 6, 2011
This is the issue for Week Nine previews and Week Eight game coverage.
COVER STORY
Dating back to Mike Holmgren's tenure, the Packers have boasted a strong offensive attack. But this season, QB Aaron Rodgers arguably is directing the deepest, most explosive offense the franchise has seen.
A MIXED BAG
We analyze the trades made for veteran quarterbacks over the past decade, telling you how they turned out for both sides and declaring a winner of each deal.
LUCK TAKES CHARGE
PFW draft analyst Nolan Nawrocki reviews the Heisman Trophy-worthy performance of Stanford QB Andrew Luck in leading the Cardinal to a thrilling 56-48 triple-overtime victory at USC.
DEPARTMENTS
The Way We See It
Power rankings
The Way We Hear It
Opinion: Editorial, letters, Publisher's Pen
Columnists: Tom Danyluk, Ron Borges, Dan Arkush's A-bombs
Fantasy Football: The Fantasy Buzz, William Del Pilar column
Handicapper's Corner: Staff selections, Mike Wilkening's column
Week Nine game previews
NFL transactions
Week Eight game coverage
AFC statistical leaders
NFC statistical leaders
Team statistics
Team rankings
Audibles
NFList: Regular-season rematch for Super Bowl foes
PFW Online
PFW Online is the electronic version of our Pro Football Weekly print newsmagazine.
We publish 30 issues throughout the year, weekly during the season and monthly during the offseason, and these issues are made available to PFW Online members in PDF format.
Since our electronic edition is always available by 7 p.m. ET on the day that it's published, it's your fastest way to get an issue of Pro Football Weekly.
You'll have access to everything in our print edition in the same familiar look and feel, plus a fully-searchable and easy way to enjoy it.