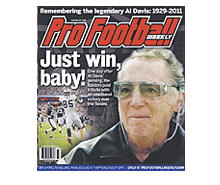 PFW Online: Vol. 26, Issue 12
Published: 2011-10-10
Cover Date: October 16, 2011
This is the issue for Week Six previews and Week Five game coverage.
REMEMBERING AL DAVIS
The world of pro football lost a legend with the passing of the Raiders' Al Davis. Two men who knew him - PFW publisher Hub Arkush and Bay Area columnist Glenn Dickey - offer their thoughts on this NFL giant.
PUTTING THE 'D' IN D.C.
Washington has been one of this season's surprise teams because of an attacking defense that has benefited from the offseason additions of several good fits for Jim Haslett's 3-4 scheme.
THE STATE OF THE COLTS
Why does it seem like the Colts were ill-prepared for life without Peyton Manning? We take a closer look at how the Indianapolis QB situation has sunk to such depths and what can be done to right the ship.
DEPARTMENTS
The Way We See It
Power rankings
The Way We Hear It
Fantasy Football: Observations, The Buzz, Matchups to exploit or avoid, Market report, William Del Pilar column
Handicapper's Corner: Staff selections, Mike Wilkening's column
Week Six game previews
Week Five game coverage
AFC statistical leaders
NFC statistical leaders
Team statistics
Team rankings
2012 NFL draft notes
NFL transactions
Audibles
NFList: All-time leading rushers among QBs
PFW Online
PFW Online is the electronic version of our Pro Football Weekly print newsmagazine.
We publish 30 issues throughout the year, weekly during the season and monthly during the offseason, and these issues are made available to PFW Online members in PDF format.
Since our electronic edition is always available by 7 p.m. ET on the day that it's published, it's your fastest way to get an issue of Pro Football Weekly.
You'll have access to everything in our print edition in the same familiar look and feel, plus a fully-searchable and easy way to enjoy it.