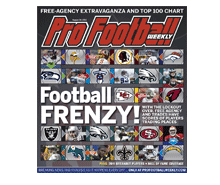 PFW Online: Vol. 26, Issue 05
Published: 2011-08-01
Cover Date: August 14, 2011
This is the free agency issue following the end of the NFL lockout.
FREE AGENCY

Once the lockout ended, the signing period for free agents and rookies began in earnest, with a flurry of activity that was exhilarating and mind-boggling at the same time. We analyze the biggest story lines.
BREAKTHROUGH PLAYERS
Which players are perfectly positioned to break out in 2011? We take a team-by-team tour around the league and identify the guys we expect to reach their potential this season.
BACK TO FOOTBALL
Rod Woodson was an elite NFL player for 17 years, playing his way into the Pro Football Hall of Fame. We profile him as he is getting back into the game, this time as an assistant coach with the Raiders.
PRO FOOTBALL HALL OF FAME
The Hall of Fame preseason game may have been canceled, but the enshrinement festivities are still a go. Remember the greatness of the members of the Class of 2011 by reading their capsules.
DEPARTMENTS
The Way We See It
Power rankings
The Way We Hear It
Opinion: Letters to the editor, Publisher's Pen
Columnists: Dan Parr, Ron Borges, Dan Arkush's A-bombs
NFL transactions
Audibles
NFList: What are the most "entertaining" NFL teams?
PFW Online
PFW Online is the electronic version of our Pro Football Weekly print newsmagazine.
We publish 30 issues throughout the year, weekly during the season and monthly during the offseason, and these issues are made available to PFW Online members in PDF format.
Since our electronic edition is always available by 7 p.m. ET on the day that it's published, it's your fastest way to get an issue of Pro Football Weekly.
You'll have access to everything in our print edition in the same familiar look and feel, plus a fully-searchable and easy way to enjoy it.