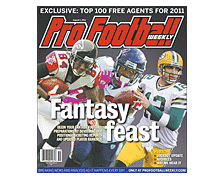 PFW Online: Vol. 26, Issue 04
Published: 2011-07-18
Cover Date: July 2011
This is our first fantasy football issue of the season.
TOP 100 FREE AGENTS
PFW ranks the top 100 unsigned players for 2011, including franchised players, restricted free agents and unrestricted free agents. Find out who the top targets will be when the FA market begins.
SPECIAL FANTASY FOOTBALL SECTION
QB REPORTS
Aaron Rodgers is No. 1 for the second consecutive year.
RB REPORTS
Arian Foster holds the top spot at his position and overall.
WR REPORTS
Roddy White, Andre Johnson, Calvin Johnson are a tough trio to top.
TE REPORTS
Even coming off injury, Antonio Gates is the best of the TE bunch.
PK/DEFENSE REPORTS
Patriots' Gostkowski, Steelers' defense tops at their positions.
FANTASY DRAFT BOARD
Our exclusive ranking of the top players at each position, overall.
DEPARTMENTS
Publisher's Commentary
The Way We Hear It
Opinion: Editorial, letters, Eric Edholm column
Columnists: Kevin Fishbain, Mike Wilkening, Dan Arkush's A-bombs
Audibles
NFList: Teams most affected and least affected by lockout
PFW Online
PFW Online is the electronic version of our Pro Football Weekly print newsmagazine.
We publish 30 issues throughout the year, weekly during the season and monthly during the offseason, and these issues are made available to PFW Online members in PDF format.
Since our electronic edition is always available by 7 p.m. ET on the day that it's published, it's your fastest way to get an issue of Pro Football Weekly.
You'll have access to everything in our print edition in the same familiar look and feel, plus a fully-searchable and easy way to enjoy it.