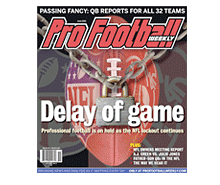 PFW Online: Vol. 26, Issue 03
Published: 2011-06-01
Cover Date: June 2011
This is an offseason issue with special attention given to the NFL lockout.
COVER STORY
Publisher Hub Arkush offers his thoughts on the state of the current NFL labor impasse.
OWNERS' MEETING
A look at the biggest news and a recap of the newest rules changes to come out of the owners' meetings in Indianapolis in late May.
BEST QB FITS
Nolan Nawrocki analyzes each team's QB situation, and tells you how the passers fit into each offense and which are best positioned to thrive or struggle.
WORTH DEBATING
We profile the top two wide receivers from April's draft, A.J. Green of the Bengals and Julio Jones of the Falcons — which one will be better?
BIG MIKE
Bills DT Michael Jasper's road to the NFL involves a dedicated scout, an inspirational mother and a motivated young man.
DEPARTMENTS
The Way We See It
Head coach power rankings
The Way We Hear It
Opinion: Editorial, letters, Ron Borges column
Columnists: Eli Kaberon, Eric Edholm, Dan Arkush's A-bombs
Handicapper's Corner: Super Bowl XLVI odds
Audibles
NFList: Ranking NFL's top father-son passing duos
NEXT ISSUE: June 27, 2011
PFW Online
PFW Online is the electronic version of our Pro Football Weekly print newsmagazine.
We publish 30 issues throughout the year, weekly during the season and monthly during the offseason, and these issues are made available to PFW Online members in PDF format.
Since our electronic edition is always available by 7 p.m. ET on the day that it's published, it's your fastest way to get an issue of Pro Football Weekly.
You'll have access to everything in our print edition in the same familiar look and feel, plus a fully-searchable and easy way to enjoy it.