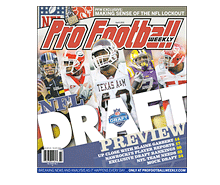 PFW Online: Vol. 26, Issue 01
Published: 2011-03-21
Cover Date: April 2011
This is the issue for the NFL draft preview.
NFL LOCKOUT
PFW publisher Hub Arkush says it's disappointing the owners and players have let their labor situation deteriorate to this degree.
UP CLOSE WITH BLAINE GABBERT
We profile the Missouri passer who quietly has emerged as a high draft pick and very well could be the first quarterback selected.
2011 NFL DRAFT PREVIEW
Overview
Positional reports
Player rankings
Team needs
Mock draft
DEPARTMENTS
The Way We See It
The Way We Hear It
Opinion: Editorial, letters, Dan Parr column
Columnists: Eli Kaberon, Ron Borges, Dan Arkush's A-bombs
NFL transactions
Audibles
NFList: A look at QBs taken in second round the past 10 years
NEXT ISSUE: May 2
PFW Online
PFW Online is the electronic version of our Pro Football Weekly print newsmagazine.
We publish 30 issues throughout the year, weekly during the season and monthly during the offseason, and these issues are made available to PFW Online members in PDF format.
Since our electronic edition is always available by 7 p.m. ET on the day that it's published, it's your fastest way to get an issue of Pro Football Weekly.
You'll have access to everything in our print edition in the same familiar look and feel, plus a fully-searchable and easy way to enjoy it.