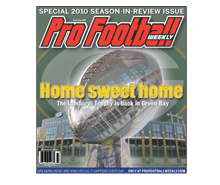 PFW Online: Vol. 25, Issue 30
Published: 2011-02-09
Cover Date: February 2011
This is the issue for the Super Bowl XLV coverage and 2010 season in review.
SUPER BOWL XLV
With the Packers bringing the Lombardi Trophy back home to Green Bay, we take a look back at the big game, profi le the game's MVP, Aaron Rodgers, and recap a busy week of news and notes.
TEN FOR '10
PFW's editors rank the 10 biggest and most noteworthy stories of the past season.
SEASON IN REVIEW
Read our exclusive team reports as we name each team's MVP, what the biggest surprise and disappointment was and look ahead to 2011.
SENIOR BOWL
Our reporters in Mobile look at two of the top positions in this draft - offensive linemen and D-linemen - and whose stock rose and fell.
DEPARTMENTS
The Way We See It
Team-by-team draft needs
The Way We Hear It
Team-by-team results
AFC individual statistical leaders
NFL team statistics
NFL team rankings
Opinion: Editorial, letters, Publisher's Pen
Columnists: Eric Edholm, Mike Wilkening, Barry Jackson, Dan Arkush's A-bombs
NFL transactions
Audibles
NFList: How hometown teams fared as Super Bowl host
CHANGE IN PUBLISHING SCHEDULE The next issue of Pro Football Weekly will be our pre-draft edition, which will be printed March 21. With the Collective Bargaining Agreement due to expire on March 3, which would delay the start of the free-agent signing period, we are postponing publication of the free-agency preview issue to ensure that we continue to provide our readers with relevant content. Subscribers will not lose an issue — you will still receive the 15 or 30 issues covered by your current subscription.
PFW Online
PFW Online is the electronic version of our Pro Football Weekly print newsmagazine.
We publish 30 issues throughout the year, weekly during the season and monthly during the offseason, and these issues are made available to PFW Online members in PDF format.
Since our electronic edition is always available by 7 p.m. ET on the day that it's published, it's your fastest way to get an issue of Pro Football Weekly.
You'll have access to everything in our print edition in the same familiar look and feel, plus a fully-searchable and easy way to enjoy it.