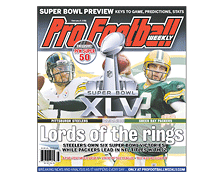 PFW Online: Vol. 25, Issue 29
Published: 2011-01-24
Cover Date: February 6, 2011
This is the issue for the Super Bowl XLV preview and conference championship game coverage.
SUPER BOWL XLV PREVIEW
Prepare for the big game with our in-depth analysis of each team, including key matchups to watch and where each team holds an edge.
SUPER 50
We talked to our sources throughout the league to help put together our exclusive annual ranking of the top 50 players of the season. No surprise, it's a QB-heavy list at the top.
KNOCKOUT PUNCH
The MVP of Super Bowl XXV, RB Ottis Anderson, recalls how he and his Giants teammates scored one of the bigger upsets in Super Bowl history with their 20-19 win over the high-scoring Bills.
2011 MOCK DRAFT
Draft analyst Nolan Nawrocki presents his initial projection for the first round of the NFL's annual selection meeting.
DEPARTMENTS
The Way We See It
Odds to win Super Bowl XLVI
The Way We Hear It
Publisher's Commentary
Griddy Awards
Opinion: Editorial, letters, Ron Borges column
Columnists: Eric Edholm, Dan Arkush's A-bombs
Handicapper's Corner: Staff selections, Mike Wilkening's column
Steelers' season in review
Packers' season in review
Super Bowl statistics
Super Bowl history
Conference Championship game coverage
NFL transactions
Audibles
NFList: How have defensive players drafted No. 1 fared?
PFW Online
PFW Online is the electronic version of our Pro Football Weekly print newsmagazine.
We publish 30 issues throughout the year, weekly during the season and monthly during the offseason, and these issues are made available to PFW Online members in PDF format.
Since our electronic edition is always available by 7 p.m. ET on the day that it's published, it's your fastest way to get an issue of Pro Football Weekly.
You'll have access to everything in our print edition in the same familiar look and feel, plus a fully-searchable and easy way to enjoy it.