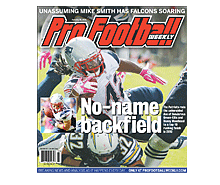 PFW Online: Vol. 25, Issue 27
Published: 2011-01-10
Cover Date: January 16, 2011
This is the issue for divisional playoff previews and wild-card game coverage.
COVER STORY
Two no-name backs with great names, BenJarvus Green-Ellis and Danny Woodhead, have proven to be perfect fi ts in the Patriots' retooled and explosive offense.
STEADY AS HE GOES
The Falcons' third-year coach quietly and effectively has directed his team to the top of the NFC South. We take an in-depth look into why Smith is just the man to take Atlanta to the next level.
GROWING COMFORT
Acquired to be the Bears' franchise QB for years to come, Jay Cutler is excited to be starting his fi rst playoff game.
NO SURPRISE
By naming Leslie Frazier as the eighth head coach in franchise history, the Vikings gave a good man a deserved opportunity to run the show. Plus, find out how Jason Garrett was destined to be head man in Dallas.
DEPARTMENTS
The Way We See It
Power rankings
The Way We Hear It
Opinion: Letter from Goodell, Publisher's Pen
Columnists: Kevin Fishbain, Ron Borges, Dan Arkush's A-bombs
Handicapper's Corner: Staff selections, Mike Wilkening's column
Divisional playoff previews
Fantasy Football: 2011 draft board, Fantasy Doctor column
NFL transactions
Team statistics
Team rankings
AFC statistical leaders
NFC statistical leaders
Wild-card game coverage
Audibles
NFList: How did playoff QBs fare in fi rst postseason start?
PFW Online
PFW Online is the electronic version of our Pro Football Weekly print newsmagazine.
We publish 30 issues throughout the year, weekly during the season and monthly during the offseason, and these issues are made available to PFW Online members in PDF format.
Since our electronic edition is always available by 7 p.m. ET on the day that it's published, it's your fastest way to get an issue of Pro Football Weekly.
You'll have access to everything in our print edition in the same familiar look and feel, plus a fully-searchable and easy way to enjoy it.