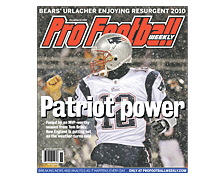 PFW Online: Vol. 25, Issue 23
Published: 2010-12-13
Cover Date: December 19, 2010
This is the issue for Week 15 previews and Week 14 game coverage.
ON THE COVER
Columnist Ron Borges argues that there is no argument about who is the MVP of the 2010 NFL season.
MIDDLE MAN
Bears MLB Brian Urlacher is having a fi ne comeback season after missing all but a part of Week One in 2009.
RISING UP
We take a look at the impressive jobs being done by second-year head coaches Todd Haley in Kansas City, Raheem Morris in Tampa Bay and Steve Spagnuolo in St. Louis.
RIGHT PLACE, RIGHT TIME
WR Brandon Lloyd surprisingly has become one of the most dangerous and consistent wideouts in the game in his eighth NFL season.
FANTASY FOOTBALL
The Fantasy Buzz presents trends to be aware of, which players to exploit or avoid, and the latest fantasy news for the fantasy playoffs. Plus, the Fantasy Doctor offers up winning advice to help your roster.
DEPARTMENTS
The Way We See It
Power rankings
The Way We Hear It
Opinion: Editorial, letters, Publisher's Pen
Columnists: Kevin Fishbain, Ron Borges, Dan Arkush's A-bombs
NFL transactions
Handicapper's Corner: Staff selections, Mike Wilkening's column
Week 15 game previews
Week 14 game coverage
AFC statistical leaders
Team statistics
Team rankings
NFC statistical leaders
Draft coverage: 2011 NFL draft notes, Top DB prospects
Audibles
NFList: Longest playoffs streaks of all-time
PFW Online
PFW Online is the electronic version of our Pro Football Weekly print newsmagazine.
We publish 30 issues throughout the year, weekly during the season and monthly during the offseason, and these issues are made available to PFW Online members in PDF format.
Since our electronic edition is always available by 7 p.m. ET on the day that it's published, it's your fastest way to get an issue of Pro Football Weekly.
You'll have access to everything in our print edition in the same familiar look and feel, plus a fully-searchable and easy way to enjoy it.