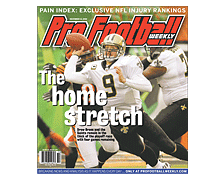 PFW Online: Vol. 25, Issue 22
Published: 2010-12-06
Cover Date: December 12, 2010
This is the issue for Week 14 previews and Week 13 game coverage.
COVER STORY
As the NFL enters the final four weeks of the regular season with the vast majority of teams still alive for postseason, we break down what lies ahead for each of the contenders.
THE 'OUCH' FACTOR
We analyze the impact that injuries have had on all 32 teams and rank the teams from those hardest-hit to those that have been healthiest.
FANTASY FOOTBALL
The Fantasy Buzz presents trends to be aware of, which players to exploit or avoid, and the latest news heading into the fantasy playoffs. Plus, the Fantasy Doctor offers up winning advice to help your roster.
DEPARTMENTS
The Way We See It
Power rankings
The Way We Hear It
Opinion: Editorial, letters, Publisher's Pen
Columnists: Eli Kaberon, Barry Jackson, Dan Arkush's A-bombs
NFL transactions
Handicapper's Corner: Staff selections, Mike Wilkening's column
Week 14 game previews
Week 13 game coverage
AFC individual leaders
Team statistics
Team rankings
NFC individual leaders
Draft coverage: 2011 NFL draft notes, Top LB prospects
Audibles
NFList: Playoff teams without double-digit win totals
PFW Online
PFW Online is the electronic version of our Pro Football Weekly print newsmagazine.
We publish 30 issues throughout the year, weekly during the season and monthly during the offseason, and these issues are made available to PFW Online members in PDF format.
Since our electronic edition is always available by 7 p.m. ET on the day that it's published, it's your fastest way to get an issue of Pro Football Weekly.
You'll have access to everything in our print edition in the same familiar look and feel, plus a fully-searchable and easy way to enjoy it.