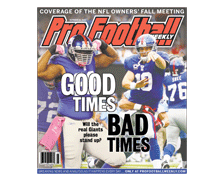 PFW Online: Vol. 25, Issue 15
Published: 2010-10-18
Cover Date: October 24, 2010
This is the issue for Week Seven previews and Week Six game coverage.
COVER STORY
When the Giants have been good this season, they've been very, very good. But when they've been bad, they've been awful. Find out how the team has worked through its inconsistent start in 2010.
NFL FALL MEETING
The league's owners and commissioner Roger Goodell met in Chicago last week to discuss a number of major issues, including the lack of a Collective Bargaining Agreement beyond this season.
NFLIST
Find out who our panel of NFL experts says are the top kickoff returners in the game today.
DEPARTMENTS
The Way We See It
Power rankings
The Way We Hear It
Opinion: Editorial, letters, Publisher's Pen
Columnists: Tom Danyluk, Ron Borges, Dan Arkush's A-bombs
Fantasy Football: Fantasy Buzz, Fantasy Doctor column
Handicapper's Corner: Staff selections, Mike Wilkening's column
Week Seven game previews
Week Six game coverage
Individual statistical leaders
Team statistics
Team rankings
2011 NFL draft notes
Audibles
PFW Online
PFW Online is the electronic version of our Pro Football Weekly print newsmagazine.
We publish 30 issues throughout the year, weekly during the season and monthly during the offseason, and these issues are made available to PFW Online members in PDF format.
Since our electronic edition is always available by 7 p.m. ET on the day that it's published, it's your fastest way to get an issue of Pro Football Weekly.
You'll have access to everything in our print edition in the same familiar look and feel, plus a fully-searchable and easy way to enjoy it.