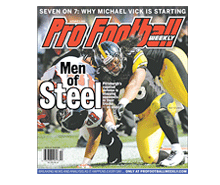 PFW Online: Vol. 25, Issue 12
Published: 2010-09-27
Cover Date: October 3, 2010
This is the issue for Week Four previews and Week Three game coverage.
COVER STORY
The Steelers' trademark ferocious defense is keeping Pittsburgh in the thick of the AFC North race while Ben Roethlisberger serves his four game league-imposed suspension.
COORDINATED EFFORT
An introduction to the 11 coordinators who are debuting with new teams this fall. Find out which are having a positive influence and which haven't lived up to expectations to date.
START IT UP
For the first time since 2006, Michael Vick is entrenched as an NFL starting quarterback. Find out how Vick passed Kevin Kolb and why Eagles head coach Andy Reid will stick with Vick the rest of the season.
DEPARTMENTS
The Way We See It
Power rankings
The Way We Hear It
Opinion: Editorial, letters, Publisher's Pen
Columnists: Eli Kaberon, Barry Jackson, Dan Arkush's A-bombs
Fantasy Football: Fantasy Buzz, Ask the Fantasy Doctor
Handicapper's Corner: Staff selections, Mike Wilkening's column
Week Four game previews
Week Three game coverage
Individual statistical leaders
Team statistics
Team rankings
2011 NFL draft notes
NFL transactions
Audibles
NFList: A look at 2000 Ravens' five-game TD-less streak
PFW Online
PFW Online is the electronic version of our Pro Football Weekly print newsmagazine.
We publish 30 issues throughout the year, weekly during the season and monthly during the offseason, and these issues are made available to PFW Online members in PDF format.
Since our electronic edition is always available by 7 p.m. ET on the day that it's published, it's your fastest way to get an issue of Pro Football Weekly.
You'll have access to everything in our print edition in the same familiar look and feel, plus a fully-searchable and easy way to enjoy it.