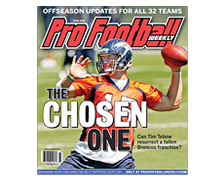 PFW Online: Vol. 25, Issue 04
Published: 2010-06-01
Cover Date: June 2010
This is the offseason team reports issue.
COVER STORY
The Broncos aggressively addressed their QB position this offseason, trading for Brady Quinn and drafting Tim Tebow. Incumbent Kyle Orton is back to keep his job, but he will be pushed by the newcomers in what promises to be an intriguing QB battle this summer.
UNSETTLED QB SITUATIONS
We take a look at eight more teams who enter the summer with questions to be answered at the all-important quarterback position. Find out who's in the running for the starting job and our prediction for how things will shake out.
OFFSEASON UPDATES
Find out what your favorite team has been up to this offseason as we analyze all 32 teams and tell you what they've accomplished and what unfinished business they still have left.
DEPARTMENTS
The Way We See It
Power rankings
The Way We Hear It
Opinion: editorial, letters, Publisher's Pen
Columnists: Mike Wilkening, Barry Jackson, Dan Arkush's A-bombs
Fantasy Football: Fantasy Doctor column
Free-agency update
NFL transactions
Audibles
NFList: A look at near-miss playoff teams the next year
NEXT ISSUE: June 28

PFW Online
PFW Online is the electronic version of our Pro Football Weekly print newsmagazine.
We publish 30 issues throughout the year, weekly during the season and monthly during the offseason, and these issues are made available to PFW Online members in PDF format.
Since our electronic edition is always available by 7 p.m. ET on the day that it's published, it's your fastest way to get an issue of Pro Football Weekly.
You'll have access to everything in our print edition in the same familiar look and feel, plus a fully-searchable and easy way to enjoy it.