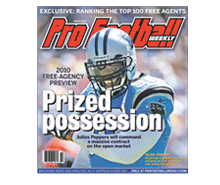 PFW Online: Vol. 25, Issue 01
Published: 2010-03-01
Cover Date: March 2010
This is the issue for the free agency preview.
FREE-AGENCY OVERVIEW
Our annual free-agency preview sets the table for what promises to be an interesting offseason as the league likely heads into an uncapped year.
TOP 100 FREE AGENTS
Our exclusive rankings of the top free agents in the 2010 class are based on talent, position value, age and other factors.
TEAM REPORTS
Find out what your favorite team's situation is regarding its own free agents and which needs it hopes to address in free agency.
NOTES FROM INDY
The PFW contingent at the NFL Scouting Combine gives you on-the scene access to the biggest stories and the top newsmakers from the annual draft evaluation gathering in Indianapolis.
DEPARTMENTS
The Way We See It
2010 NFL draft order
The Way We Hear It
Opinion: Editorial, letters, Publisher's Pen
Columnists: Eric Edholm, Ron Borges, Dan Arkush's A-bombs
NFL transactions
Audibles
NFList: Most intriguing restricted free-agent signings
NEXT ISSUE: MARCH 29
PFW Online
PFW Online is the electronic version of our Pro Football Weekly print newsmagazine.
We publish 30 issues throughout the year, weekly during the season and monthly during the offseason, and these issues are made available to PFW Online members in PDF format.
Since our electronic edition is always available by 7 p.m. ET on the day that it's published, it's your fastest way to get an issue of Pro Football Weekly.
You'll have access to everything in our print edition in the same familiar look and feel, plus a fully-searchable and easy way to enjoy it.