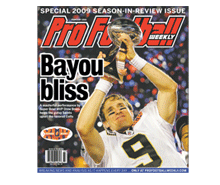 PFW Online: Vol. 24, Issue 30
Published: 2010-02-10
Cover Date: February 2010
This is the issue for the Super Bowl XLIV coverage and 2009 season in review.
SUPER BOWL XLIV
We tell you how the Saints beat the Colts, offer up a profile of MVP Drew Brees and share notes from the entire week of Super Bowl events and press conferences.
TOP 10 STORIES
It's time to close the books on the 2009 season, as our editors rank the 10 biggest and most noteworthy stories of the year.
SEASON IN REVIEW
Reports on each team include a team MVP, the biggest surprise and disappointment of 2009 and a look ahead to the offseason agenda.
SENIOR BOWL
Find out which senior pro prospects helped themselves the most and which saw their stock drop at the annual showcase of draft hopefuls.
DEPARTMENTS
The Way We See It
Free agency at a glance
The Way We Hear It
Team-by-team results
AFC individual statistical leaders
NFC individual statistical leaders
NFL team statistics
NFL team rankings
Opinion: Letters, Publisher's Pen
Columnists: Keith Schleiden, Barry Jackson, Dan Arkush's A-bombs
NFL transactions
Audibles
NFList: A positional look at the franchise tag
NEXT ISSUE: MARCH 1
PFW Online
PFW Online is the electronic version of our Pro Football Weekly print newsmagazine.
We publish 30 issues throughout the year, weekly during the season and monthly during the offseason, and these issues are made available to PFW Online members in PDF format.
Since our electronic edition is always available by 7 p.m. ET on the day that it's published, it's your fastest way to get an issue of Pro Football Weekly.
You'll have access to everything in our print edition in the same familiar look and feel, plus a fully-searchable and easy way to enjoy it.